Synthetic Universe #3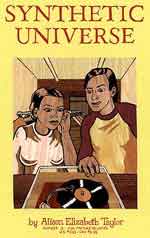 This is the first full-size issue of SYNTHETIC UNIVERSE by Alison Elizabeth Taylor, and the first comic work I've seen by her. I liked the grotesque looking characters — with glandular eyes and collagen-injected lips — and so decided to pick it up, even though sometimes it can be difficult starting a series after number one.
However, being an anthology comic with mostly self-contained stories, missing any previous continuity wasn't much of a problem. Only the first story, "Thrifting in the 2020s," seemed to pick up in the middle of something.
"Thrifting" doesn't really end, either, and the middle can be hard to follow, something about a poor girl having a fight with her platonic male friend and ending up losing her virginity to a guy she picked up in a bar. This just had the feel of something better enjoyed if there was only more to the story, although there's a dreamy quality to the story's pacing and milieu that keeps it interesting.
However, the rest of the comic is brilliant.
The real highlight is "Killing Time," drawn by Taylor, but written by Andrew Hunter. This is a text-comic, i.e. all captions and no word balloons, about in-bred royalty in a fairy tale type world where a young prince has an affair with Tina the Frog Girl of a traveling carnival. There's just something creepy about this little tale that's a real freak-out.
Elsewhere on her own, Taylor presents the intriguing "Bad Made Good Happen," in which an unrepentant Eve justifies her eating of the apple in the Garden of Eden. If she hadn't, then living the all-good life would have been a real snooze. Hey, you know what, the chick makes sense!
"The Bone Story" is a cool little autobiographical tale about the bad karma that can accompany stealing stuff out of the trash. Or out of the graveyard.
A couple of other one to three page stories round out the issue, giving the comic good bang for the buck.