Coen Brothers' Inside Llewyn Davis Q&A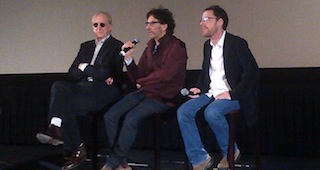 Joel and Ethan Coen, along with T-Bone Burnett, participated in a Q&A session following a special screening in Hollywood of their upcoming release, Inside Llewyn Davis, which the Underground Film Journal recently attended.
The picture above and the gallery below are from this event.
Following the movie — a heartbreaking story of a folk singer trying to survive in 1961 NYC — the filmmakers primarily discussed the casting of the hard-working, but non-marquee, actor Oscar Isaac in the lead role and their surprising, to them, ability to gather financing to make a "difficult" indie film.
The film is packed with classic folk songs and one original tune; all produced, arranged and/or written by Burnett; most of which was performed on set by Isaac, along with Justin Timberlake, Carey Mulligan and other cast members. The music, according to Burnett, was not over-dubbed or auto-tuned or otherwise altered in post-production, keeping to a theme of capturing and maintaining the performances in a "documentary" style.
One interesting question arose regarding the brothers' conceptualizing of many of their main characters who go through a distinct lack of emotional growth in their films, including Inside Llewyn Davis. Ethan Coen responded that there never has been any conscious decision on his or Joel's part to frame their characters in that manner and that they simply "don't think that way" during the writing process.
Also, the idea for Inside Llewyn Davis came to them many years ago as beginning with the opening sequence, in which Llewyn gets beat up in an alley following a performance in a coffee shop. It just took them awhile to figure out what would happen next.
A full review of Inside Llewyn Davis will appear over on the personal blog of Underground Film Journal editor, Mike Everleth.