Classic Underground Short Film: Portland
A trip to hell and back is recounted in Greta Snider's classic underground short film, Portland. Living the ultimate punk lifestyle, a group of friends relive the disaster that was hopping the rails from California to Portland, crashing at a not-so-abandoned house and fighting to reclaim their belongings.
Although Portland is shot all in B&W and primarily just in shots of talking heads, the story being told is so vivid and colorful that the viewer can easily visualize the mayhem and chaos caused and encountered by the participants, which includes the filmmaker herself. (While the storytellers are not identified on-screen, that is Snider who opens the film.)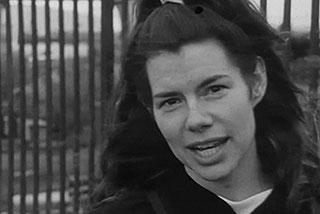 The train-hopping that instigates the action of Portland seems very much of the time in which it was made, which was the year 1996. Hopping freight cars as an economical way of getting around was a very punk rock thing to do back then. In fact, the film's participants talk about going to a punk rock show once they hit their destination. It's not an anti-authoritarian activity one hears much about anymore, though. Do young punks still steal rides on trains?