Classic Music Video: Sonic Youth's Death Valley 69
Embedded above is the first music video ever produced for the legendary art rock band Sonic Youth, "Death Valley 69," the eighth and final track on their 1985 album Bad Moon Rising. This is also the first music video that was co-directed by Richard Kern, one of the leading figures of the Cinema of Transgression movement. The song and the video are a perfect time capsule blend of audio and images from the raging punk scene coming out of NYC's Lower East Side in the '80s.
According to Jack Sargeant's definitive history of the Cinema of Transgression, Deathtripping: The Extreme Underground, Judith Barry was originally hired to direct the video with Kern only hired to do the gore makeup special effects. However, Kern would end up co-directing along with Barry. (The video's on-screen credits, listed in full below, also credit Sonic Youth as a co-director.)
The final video ends up being a complete mish-mosh of varying styles with several separate "storylines" interweaving. There's the segments with the band appearing as both Charles Manson-style cult killers and their disemboweled victims; then there's the scenes with Kern's frequent waifish ingenue star Lung Leg maniacally gesturing towards the camera; and there's intercutting of apparently found footage that's difficult to distinguish its origins. Plus, there's the Underground Film Journal's favorite part: The maniacal on-stage performance of the band that doesn't even attempt to match up to the music's beat.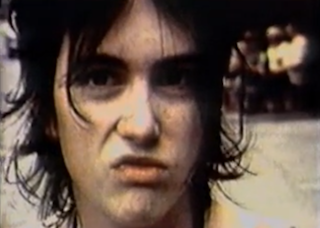 The actual song is a collaboration between Sonic Youth and Lydia Lunch, both of whom were a part of the No Wave music scene. Lunch, who used to perform with the bands Teenage Jesus and the Jerks and The Contortions, also acted in some of the political punk films of Beth B and Scott B such as Black Box (1978). She would later end up starring in Kern's probably most well known and notorious film, Fingered (1986).
Also credited in the film is actor Tom Turner, another filmmaker in the Cinema of Transgression group. (Although, as a filmmaker, he's usually referred to as Tommy Turner.) Turner's own most notorious film is his collaboration with artist David Wojnarowicz, Where Evil Dwells (1985), a rumination on a supposed teen murderer named Ricky Kasso.
This video was Judith Barry's only dalliance with the Transgression movement. She would go on to an acclaimed career as a multi-disciplinary artist, working in performance, installation, architecture and other mediums.
The Death Valley 69 on-screen credits read as:
Sonic Youth
with
Lydia Lunch
featuring
Lung Leg
Tom Turner
Directors
R. Kern
Judith Barry
Sonic Youth
Camera
R. Kern
Judith Barry
Editors
David O. Weissman
Bruce Tovsky
Judith Barry
R. Kern
Executive Producer
Annie Goldson
Gore Effects
R. Kern
Production Assistants
Tom Turner
Vikky Alexander
Jane Weinstock
Producer
Judith Barry
Post-production services provided by
Bay Area Video Coalition, S.F.
Film/Video Arts, N.Y.C.
Copyright 1986 R. Kern/Sonic Youth
Published by Savage Conquest/
Rough Trade Music 1985