Classic Movie Trailer: Sins Of The Fleshapoids
While no real trailer for Mike Kuchar's classic '60s underground film Sins of the Fleshapoids actually exists, embedded above is the trailer Other Cinema cut together for their DVD release of the film a few years back.
Included in the trailer is a couple title cards from the opening title sequence, male stars George Kuchar and Bob Cowan camping it up, Donna Kerness' memorable flower barely-there outfit, all wrapped around a couple choice pieces from the overly dramatic music soundtrack. For a trailer, it sells the movie extremely well.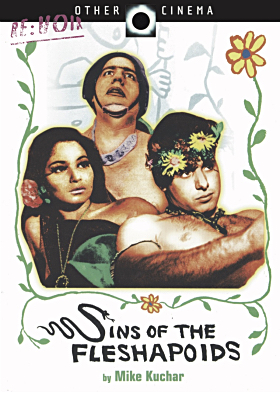 The Underground Film Journal reviewed the DVD release over three years ago, praising the quality film transfer and the inclusion of two other great Mike Kuchar films, The Secret of Wendell Samson and The Craven Sluck. Plus, there's a fantastic modern-day director's commentary.
This is a film you either already know and love or need to see immediately. Sadly, the DVD is already out of print and has some extremely high used disc prices on Amazon. It is available on Netflix, though.