Cinema Abattoir: The Posters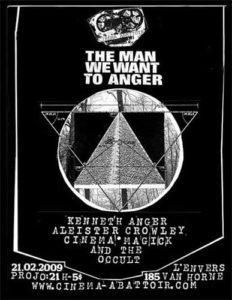 Cinema Abattoir is the transgressive underground film screening series held in Montreal, Quebec. Every time there's a new screening, which is every couple of months, the email announcement that I get for it comes with a large scan of a handmade poster crafted by the man behind the Abattoir, Pierre-Luc Vaillancourt. Usually I shrink these down and use them to illustrate my posts announcing the events.
I find these posters to be extremely striking in an old-school punk rock poster kind of way, but with a gothic Abattoir twist. So, I've gone ahead and created an image gallery of them featuring larger sized versions of the ones I have been putting up so you can view them in more detail.
Abattoir is also much more than just a screening series. Vaillancourt has also put out two incredible DVD collections of short films that I've loved and reviewed on the Underground Film Journal, L'Erotisme and Incarnation. The DVDs are shocking, disturbing and — in their own twisted way — absolutely beautiful. They feature the work of Usama Alshaibi, Roland Lethem, Dionysos Andronis, Karl Lemieux, Micki Pellerano and more. You can only get them via the Abattoir website, but if you're into the transgressive scene, these are must have discs. Vaillancourt also tells me a third one is on its way.
Click each poster below to embiggen. I love 'em!