Chick Strand, RIP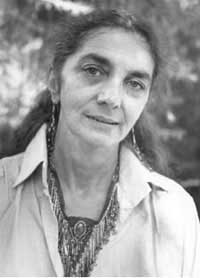 Via Karina Longworth over on SpoutBlog, I've learned that pioneering ethnographic underground filmmaker Chick Strand passed away on July 11 at the age of 77. Another blog, Phil Solomon's MUSINGS, reprints a letter from Strand's son Eric with more detail. Strand had had health issues related to cancer over the past 10 years, to which she finally succumbed.
Karina and Eric offer up very nice tributes, as does Holly Willis on the KCET "Blur + Sharpen" blog. I suggest reading all three. Karina also offers up a profile of Strand from the 2006 LA Weekly that's a great read.
Alas, being unfamiliar with Strand's films myself, I can offer no personal tribute. Although, I recently finished Scott MacDonald's essential book Canyon Cinema, which recounts the birth of the legendary San Francisco underground film distributor. Canyon originally began as an underground film screening series started by Bruce Baillie. In those early days, though, Strand was essential in helping Baillie organize the screenings and even hosted them for a time in her and her then-husband, Paul Strand's, backyard. Then, when Canyon eventually moved into distribution, Strand edited several issues of the organization's newsletter, the Canyon Cinemanews.
There's not a ton of info out there on the web about Strand's films and her legacy, but here's some stuff I collected:
Strand was primarily known as a filmmaker, but she was also a painter. Several of her paintings can be seen online from a gallery showing at La Luz de Jesus in Los Angeles in 2000. Sadly, the online representations of the paintings are somewhat small, but still pretty to look at. This was the first exhibition of her paintings ever.
For the Portland Mercury, Pablo de Ocampo has a brief write-up about her films that were screened at a retrospective in 2001.
Via Google Books, you can read a three-page tribute written by Strand for David E. James' book Stan Brakhage: Filmmaker. The tribute is more like a poem than a straight-up analysis of Brakhage's films.
A list of her films available for rental can be found on the Canyon Cinema website. (Image above from the Canyon website.)