Charles Pinion Interview: Part One
Charles Pinion exists at a unique transection of the modern underground film scene.
A pioneer of the Analog Video Feature Film movement. (That never materialized.) Interaction with the Cinema of Transgression, but not a part of it. Screened back-to-back features at the then-nascent Chicago Underground Film Festival.
He's been there. He's done that.
To date, he's made just three feature films. (Although, hard at work on finishing up his fourth.) And all three — Twisted Issues, Red Spirit Lake and We Await — deserve to be freshly rediscovered and recontextualized. These films put out vibes that stretch out and can be felt in work by makers such as Calvin Lee Reeder, Bob Moricz, Waylon Bacon and others, whether they were specifically influenced by them or not.
All of Pinion's films can be purchased on DVD from the filmmaker's website. Gross. Surreal. Unsettling. If that's your bag — like they are ours — these films are essential viewing.
The Underground Film Journal was lucky enough to have been introduced personally to Pinion in Hollywood recently by mutual friend Jack Sargeant. After hearing first-hand accounts of his incredible ride across the underground film landscape, we thought his stories would make for a nice little interview.
What then transpired was an epic chat that will span multiple posts on this website. The first part of which is below:
Underground Film Journal: You made your first feature film, Twisted Issues, in Gainesville, FL. Is that where you are from?
Charles Pinion: I'm an Air Force brat who moved every 3-4 years throughout my childhood, (and continued such perambulation for a good part of my adulthood). I was born in Kentucky and lived in Texas, California, Japan, and finished high school in South Florida.
My grandfather was a math professor at the University of Florida in Gainesville, so his home was a gathering place for my family during summers and holidays. Thus, Gainesville has always felt like my "real" home.
I went to Syracuse for art school and UF for graduate school. I then was a high school art teacher in Gainesville for a year. I quit teaching and began singing in a punk band, drawing posters, painting murals and printing t-shirts. (Meanwhile dishwashing, waiting tables and driving a cab.) It was a tremendously creative time for me.
I had access to my father's then-groundbreaking all-in-one VHS camcorder (an early RCA), and began documenting the bands in Gainesville's burgeoning post-punk scene, ca. 1985-88. I had no clear goal other than to record what I saw as Gainesville's essential, woefully un-documented music scene. This was pre-1990 (AKA "the year punk broke") and it was a crazy and expressive time.
In 1988 I put into motion my long-anticipated move to NYC (I received a BFA at Syracuse and many of my classmates had already moved there), but wanted to leave Gainesville a love letter upon my departure. I enlisted the collaborative energies of various people from the music and art scene and we came up with a zombie skateboarder, punk-rock, gore-splattery psychotronic story, which is what became Twisted Issues.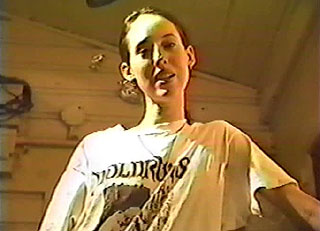 Journal: What was the filmmaking scene like down there at the time?
Pinion: There was no filmmaking scene that I am aware of. There were art-filmmakers on campus (some of the psychedelia in Twisted Issues is Super8 footage from a UF film student), and scholarly, post-modern perspectives on cinema were part of the ongoing dialogue. I had done my time in a heavy-duty art program at Syracuse, and still think of myself primarily as a printmaker, with a broad definition of what constitutes a print.
In any case, no one in Gainesville, or most places in 1987, was going to shoot a narrative feature on VHS. It just wasn't done. It's easy to forget how absolute the bias was toward film back then. On the other hand, one of the fun things about punk was its intrinsic pugnacity and DIY solutions.
Journal: That's the thing. Nobody was shooting features on video, yet you did it! So, you've made clear your intentions about making Twisted Issues, but, at the time, did you have any concept of public distribution/viewing of it? Or was it just a project intended to be seen by your friends and scenesters?
Pinion: I don't know if I thought beyond just getting it out there. It premiered at the local "rathskellar" called The Orange And Brew, and that was for a very receptive local audience. I was curious how it would be received elsewhere, and I was very grateful for an extremely enthusiastic reception from Chris Gore's Film Threat magazine. He did a glowing review, and then also featured it in the magazine's cover story "25 Underground Films You MUST See!".
I sold Twisted Issues by mail order, packaged in a Ziploc bag: the VHS movie, a 90-minute soundtrack cassette, and a booklet/zine filled with band info and drawings and such. I sent it to punk magazines as well as horror zines, since it seemed to straddle both worlds, and got pretty good results for something I was dubbing copies of myself. (I still burn the DVDs for my movies one at a time.) I think all artists want to get their work seen, so I was open to as wide an audience as the piece could sustain.
Journal: That sounds like — for existing in a world that didn't favor video features — a tremendous success. Were you a regular Film Threat reader before you made Twisted Issues? The film feels like it has strong elements of the Cinema of Transgression in it, which, I would guess, Film Threat would have been the only way to know about those films at that time for somebody outside the NYC scene like you were.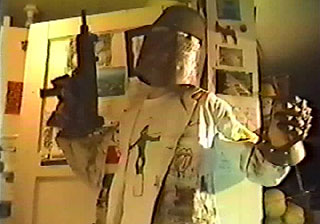 Pinion: I worked in a record store that carried Film Threat, but didn't actually see any of the Cinema of Transgression films until I'd moved to New York myself. (Twisted Issues seems downright repressed, from my perspective, compared to the work of the Cinema of Trangression. When I first met Richard Kern, who saw Twisted Issues on the stand at See/Hear in NYC and told the owner that he'd like to trade movies with me, his first comment was that he "kept waiting for that black-haired girl to take her top off!")
A more direct influence would be Jim Morton's REsearch book Incredibly Strange Films, which I devoured and assimilated. I especially gravitated to the films of Ray Dennis Steckler, and still absolutely adore his The Incredibly Strange Creatures Who Stopped Living and Became Mixed-Up Zombies. Other influences are in Twisted Issues itself, e.g. clips from Polyester, Psych-Out, The 5,000 Fingers of Dr. T, and a quote from Return of the Living Dead. ("They came out of the ground, and they're after us!")
An even more seminal influence would be my Syracuse University classmate and friend Mike Schafer. Mike did an ahead-of-its-time clip art zine called Emotional Vomit for many years, and I played bass guitar in his band Mechanical Sterility for much of that time. I was still suffering from a film bias, and was talking to him about making a film in 16mm, and he said, "Why not video?" Why not, indeed? This, I think, might have been the road-less-chosen moment for me.
Journal: So, that all sounds like a moment of zeitgeist and kismet that you and Kern got together. And I did know from Jack Sargeant's awesome Deathtripping: The Extreme Underground that you acted in some of Kern's films. But, when you got to New York, did you meet/hang out with anyone else in the Transgression movement? Did you know Nick Zedd at all?
Pinion: Yeah, it was pretty cool meeting Kern right after getting to town. My life was feeling like a soot-fringed fairy-tale. Emboldened by Richard's warm reception, I then sent the Twisted Issues Ziploc package, with an accompanying letter, to Nick Zedd. (To my mind, Kern and Zedd were the dyad at the top of the Cinema of Transgression totem.) Nick sent my letter back, upon which he had scrawled "I really hated Twisted Issues. I also hated the soundtrack music." I used that pull-quote for years!
I did introduce myself at a screening of Nick's at Limelight of Police State and some other stuff. I mentioned to him that I used his pull-quote and he sort of smiled and said that's the kind of thing that he would have done with a quote like that.
Speaking of zeitgeist, in my first days in NYC I would sometimes go to Vazac's, a bar off Tompkins Square Park, where Mark Boone Jr. tended bar. I saw Police State's evil cop, Rockets Redglare, over by the jukebox. I crossed the room to offer my praise to Rockets for his work in the film and we had a nice chat. Rockets said that what happens in Police State had actually happened to him, that a cop had put his dick in a paper cutter and threatened to cut it off.
At the end of our conversation, Rockets wondered if I could spare a dollar. He had his Nemesis, as did so many others in the East Village back then.
I didn't hang out with any Cinema of Trangression people per se, but I did cast my next movie, Red Spirit Lake, with some of them.