Charles Pinion Interview: Part Four: Red Spirit Lake
Red Spirit Lake is psychotronic filmmaker Charles Pinion's second feature film, shot entirely on video in the early '90s and featuring several superstars of the Cinema of Transgression movement, such as Richard Kern and Tessa Hughes-Freeland.
The film — available on DVD from the filmmaker — is a wildly evolutionary step up from Pinion's first feature, the raucous skater punk horror flick Twisted Issues. Below, we discuss Red Spirit Lake's production.
Underground Film Journal: Not to get ahead of ourselves, but it sounds like a lot of Killbillies eventually got transformed into We Await.
However, you must have been so soured on the Killbillies experience at the time that you wanted to move onto something completely different. But also, I would suppose that having been involved in at least attempting to mount a major production inspired you to make Red Spirit Lake more — well, it's hard to find the right word for it, but I would say, conditionally — "sophisticated" than Twisted Issues.
I mean, Red Spirit Lake is filled with extreme, way outside mainstream and socially acceptable sequences and imagery, but at least it has a more traditional, fairly easy to follow plot than Twisted Issues.
Charles Pinion: Amanda Collins, my collaborator on Red Spirit Lake, brought an intelligence and story sense to the project that came from her experience as a documentary editor. I learned a lot from her.
After all of the disappointment with Killbillies, I wanted my next movie to be straightforward and achievable. Kembra Pfahler (of the Voluptuous Horror of Karen Black, and Red Spirit Lake) has used the term Availablism to describe her approach to art, which has always been my approach as well. A house in a remote location was available, so that's where we'd set our story. Boom.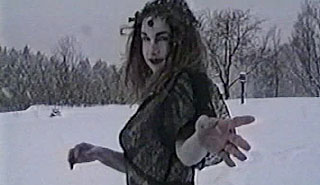 We decided to approach the writing of Red Spirit Lake methodically, with a "blammo" every few pages. Nudity, violence, extreme moments. Blammo! Just keep it moving in that way. It accounts for its relentless, if somewhat odd, structure.
Red Spirit Lake was shot in Vermont and Manhattan, and edited in San Francisco. Michael Belfer, of the seminal Bay Area punk band The Sleepers, did original music for the soundtrack in between all of the music in the movie by the various bands we knew. This was my first opportunity to work with a composer, and we had a wonderful if primitive set up, using my four-track Tascam cassette recorder I had from Twisted Issues days.
After completion, Red Spirit Lake was originally going to be carried by Film Threat magazine on their VHS label, but they changed their minds, leaving me scrambling to promote and sell the movie myself. I had already begun shooting We Await, so I had to switch hats fast.
In attempting to submit Red Spirit Lake to film festivals, I ran into that bias toward film that I have referred to previously. This bias was very discouraging.
Then I happened upon the Chicago Underground Film Festival. They quite explicitly stated that their interest was in cinema in its purest sense: Moving images telling stories.
CUFF's acceptance of the shot-on-video feature Red Spirit Lake broke a logjam in my consciousness about my work's place in culture's fuzzy firmament. It also anticipated the present day and its open-mike-night, film-free, free-for-all of image-gathering, documenting, and movie-making. "Millions of images," W.S. Burroughs intones in the song of the same name that he did with Gus Van Zandt. Indeed!
Underground Film Journal: What year did you screen Red Spirit Lake at CUFF? Did you go to the festival? Other than just the acceptance of screening video in a movie theater being a positive experience, did you also now feel connected to a larger underground culture in terms of the type of films you liked making, i.e. extreme horror-ish art projects?
Charles Pinion: I did attend the CUFF festival that year, which I believe was 1995. It was gratifying, of course, to have Red Spirit Lake screen anywhere, period, given the prevailing attitudes vis a vis film vs video.
Red Spirit Lake begins pretty challenging with Aunt Abigail being tortured, and no one tortures a titty quite like Richard Kern. There were walk-outs at that premiere screening.
I didn't really connect so much to any kind of "scene" on that first visit. When I went back with We Await in 1996, I was much more engaged, and made a bunch of friends.
Certainly it was tremendously validating to have my movie in the arena with other contemporary underground movies. Feedback fuels production. I was antsy to get going on something new.
As far as labels go, I've always felt more psychotronic than horror, whatever that matters, and to the extent that such labels refine one's intent.
In pre-production on my current movie American Mummy, my partner would refer to me as "the horror expert", a notion that I tried frequently to disabuse. I truly am just doing my best here with genre conventions, subverting them or fulfilling them when possible and appropriate. I don't consider myself an expert on anything.
Red Spirit Lake is available on DVD on Charles Pinion's official website.