Carey Burtt's Psychotic Odyssey
Presented by the Boston Underground Film Festival, Carey Burtt will host a retrospective of his work on Jan. 30 at 6:00 p.m. at Space 242. One of the films that you'll probably get to see is the phenomenal The Psychotic Odyssey of Richard Chase, a biopic about the California serial killer who drank his victims' blood, which I've also embedded above.
Burtt crams in a ton of disturbing goodness into just six minutes. The film is done with Barbie dolls, ala the classic Todd Haynes film Superstar: The Karen Carpenter Story. What's most frightening about Chase's story isn't that he had sex with corpses and ate the brains of babies, it's that there were several opportunities to lock Chase away for good before he went on his murderous rampage in Sacramento in the late '70s.
Prior to just discovering Psychotic Odyssey while researching for this post, I originally slagged on Burtt's The Death of Sex at the 2000 New York Underground Film Festival — which I'd like to see it again now that I'm a little wiser — but thought his Mind Control Made Easy at the 2001 NYUFF was totally brilliant. Burtt is also a regular at the Boston Underground and his first feature, A Forked World co-directed with James DiGiovanna, won the fest's annual "Most Effectively Offensive" Award in 2005.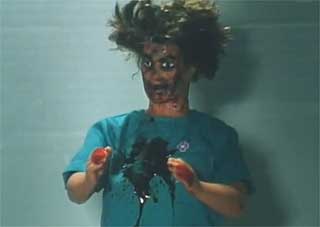 Should be a fun night this Friday. If you want to check out a little bit more by Burtt before going or if you can't make it to Boston, he has a bunch of videos up on both his YouTube channel and his MySpace videos page. Lots of good 'n' creepy stuff lurking in them.
By the way: The Boston Underground holds lots of great screenings throughout the year like this and their annual fest is coming up on March 19-26. I'll try to have the full lineup on the Underground Film Journal well before then. But check out their official website for more great info.
Jan. 30
6:00 p.m.
"Carey Burtt: Films That Hurt Feelings"
Space 242
242 E. Berkeley Street, 2nd floor
(between Albany Street and Harrison Avenue)
Boston, MA