Calls For Entry: Experiments In Cinema & Damming Fluxus
Experiments in Cinema is an amazing, annual celebration of short experimental film that runs every year in Albuquerque, New Mexico. Their v.7.9 is going to run on April 18-22 and they're looking for submissions.
Regarding exactly what they're looking for, EiC actually has a great mission statement right on their homepage that I'm going to reprint:
Experiments in Cinema is an annual, Albuquerque-based festival that celebrates recent trends in international, cinematic experimentation and offers a variety of ways in which attendees might think about the history of media representation and participate in shaping future trends in cultural representation.
In addition to the five day festival, EiC also travels around its home state to various schools, screening selections from their program in an effort to inspire a new generation of cinema makers and enthusiasts. Personally, the Underground Film Journal thinks that outreach programs such as this one are essential in keeping this cherished art form alive. We really applaud EiC for its hard work.
That said, we totally blanked out on listing this year's lineup. But, if you want to see what an EiC program looks like, check out the 2010 schedule that included work from the likes of Vanessa Renwick, Sylvia Schedelbauer, Kerry Laitala, Ben Russell, Thorsten Fleisch and more.
There are two deadline dates:
Regular Deadline
Oct. 15
$15
Late Deadline
Dec. 1
$30
If you're interested in submitting, please visit the official Experiments in Cinema website.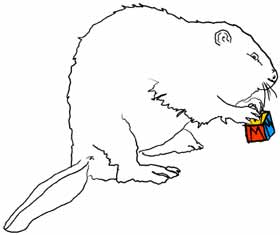 Damming Fluxus
Damming Fluxus is a new — and a new kind — of experimental screening program. It will be a uniquely curated program of films that will be presented to other festivals for screening opportunities. What makes Damming Fluxus unique is that it is being curated in the style of an exquisite corpse.
The program is the brainchild of a trio of folks, Melanie Wilmink, Melody Jacobson & Murray Smith. Or, collectively known as M3. Here's how it'll work:
Filmmakers will submit their films. M3 will check them out. A random selection process will choose the first film in the program, then each subsequent film to be screened will be chosen by a different M. In M3's words:
We will collaboratively fuse a package that is unlike any other, one that flows one film to the other, genre to the genre, experiment after experiment to form a program that binds as a cohesive whole, without scorching the patience and vision of the audience.
Sounds like fun! And if you want to be a part of it, there is no entry fee and only one deadline:
Final Deadline
Sept. 30
If you're interested in submitting, please visit the official Damming Fluxus website.