Calls For Entries: Atlanta Underground, Exquisite Corpse, New Media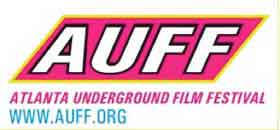 ATLANTA UNDERGROUND FILM FESTIVAL
The Atlanta Underground Film Festival has grown into one of the largest underground fests in the U.S. and they're currently open for entries for their 9th annual edition, which will be held at the Goat Farm Arts Center on Sept. 13-16, 2012.
The fest is typically looking for a wide range of independent feature-length narrative films, documentaries and short films from oddball comedies to political documentaries to extreme horror to generally unclassifiable stuff. The fest sums up their philosophy as:
Creative artists who continuously break the boundaries of film and video are exposed and promoted through AUFF, so they too have a voice in a market typically saturated with commercial entertainment designed to satisfy the audience's expectations.
To get a good idea of what types of films the fest likes to program, please check out last year's film lineup.
And, with the festival quite a ways off, there are several deadlines coming up. They are:
Early Deadline: Dec. 1, 2011
Entry Fees:
Features: $35
Shorts: $30
Regular Deadline: Apr. 2, 2012
Entry Fees:
Features: $40
Shorts: $35
Final Deadline: Jun. 1, 2012
Entry Fees:
Features: $50
Shorts: $40
To submit to the Atlanta Underground Film Festival, please visit the fest's submission page.
EXQUISITE CORPSE FESTIVAL
The inaugural Exquisite Corpse Festival, which will run on Jan. 24, 2012 in New York City, is a different kind of festival that will follow the format of the traditional "exquisite corpse" form of collaboration.
For those who don't know, an "exquisite corpse" is an artistic work where the participants are asked to contribute a piece to a larger work without knowing the full details of the previous participants' contributions.
The fest describes how this works in the context of a film as such:
Team A will create the first 3'20" of the ten-minute film. They will submit the film to us where we will hang on to it and share the last 10-15 seconds of film with Team B who will recreate that moment as faithfully as possible and then create the next 3'20" of film.

Since Team B will not be able to see the first 3 minutes of the film, they are freed from having to match the content or style of the Team A and can instead take the film wherever they want starting from that moment.

Likewise Team C will receive the last 10-15 seconds of Team B's film to recreate that moment and complete the film.

Each film will be a dip into the collective unconscious of the three filmmaking teams in cinematic, surrealist journey.
If this sounds like fun to you and you live in the NYC area, please contact the fest at their official website and include the following information: 1. Your interest in contributing; 2. A very short sample of your current work; and 3. Your preferred time to work on your third of the film.
NEW MEDIA FILM FESTIVAL
Los Angeles' New Media Film Festival will celebrate its third year in June 2012. They are looking for feature films, documentaries, animation, machinima, 3D films, cell phone media, music videos, screenplays, web series and a ton of other different things.
The fest has also rounded up a bunch of major companies, such as Pixar and Industrial Light & Magic, to serve as judges to award over $20k in prizes.
As for what kinds of films New Media is looking for, they're mission statement reads in part:
Honoring Stories Worth Telling in all media that are innovative, imaginative and inspirational. Stories that can make you laugh, cry, think & go beyond the ordinary. New Media Film Festival intersects the interactivity of new technologies & formats for Media & Cinema with global consciousness.
You can also check out their inaugural lineup to get a sense of what kinds of films they like.
The submission guidelines and deadlines for all their categories is a bit complicated. So, if you're interested in submitting, you can go check out the New Media Film Festival submission page.