Callie Angell, R.I.P.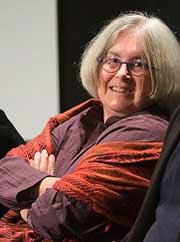 I'd just like to take a moment to mark the passing of Callie Angell, the chief archivist, cataloger and historian of Andy Warhol's films. She died last Wednesday, May 12. Personally, I didn't know Angell or of her work. I only learned of her, unfortunately, upon her death. However, she was a significant figure in preserving the legacy of one of underground film's most famous figures, so she needs to be mentioned on this site.
Sadly, her New York Times obituary says she committed suicide at the age of 62. The article doesn't go into the why of her death, although multimedia artist Daryl Chin writes that Angell had been struggling with diabetes for quite awhile, which may or may not have been a contributing factor.
Angell had previously been a librarian for the Anthology Film Archives, then moved on to curating at the Whitney Museum. But, for a large portion of her life, she become the world's foremost authority on the films of Andy Warhol, tracking down prints, archiving them, publishing a volume on Warhol's Screen Tests, and — perhaps most notoriously — sitting through the entire 8 hours of Empire.
There were lots of great tributes to and remembrances of Angell on the web last week, starting with a piece by J. Hoberman for the Village Voice. For a very special tribute, j.j. murphy posted up a review of an obscure Warhol film, Since (1966). Also, the writer Emily Green wrote at length about her long, tempestuous friendship with Angell. Lastly, "dan" at the Orphan Film Symposium also wrote a brief memorial.