2006 Calgary Underground Film Festival: April 19-22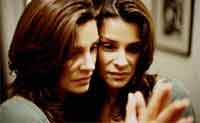 For anyone wanting to trek it up to Canada, the Calgary Underground Film Festival has announced it's lineup. You can find the full lineup, including numerous shorts, at their website, but I'll list the features here:
Wednesday, April 19:
1) A/K/A Tommy Chong: A documentary about guess who by Josh Gilbert. You can watch the trailer at Spike.com.
2) The District: An insane looking animated feature from Hungary by Aron Gauder.
Thursday, April 20:
1) Exiles in Lotusland: A documentary about homeless teens in Vancouver by Ilan Saragosti.
2) Puffy Chair: A romantic comedy by Jay Duplass about a guy who travels cross-country with his girlfriend to pick up a chair he's bought on eBay. The film was also up for the John Cassavetes Award from the Indpendent Spirit Awards this year (a movie called Conventioneers won).
Friday, April 21:
1) Buy It Now: A half-documentary/half-narrative film by Antonio Campos about a girl who sells her virginity on eBay (lots of eBay films out now it seems).
2) Saint Martyrs of the Damned: The CUFF site doesn't have any info on this film by Robin Aubert, but an IMDB review says it's some sort of David Lynch style supernatural thriller.
3) Mad Cowgirl: The CUFF site refuses to describe this film by Gregory Hatanaka–and I can see why after watching the trailer on the film's website. Starring Walter Koenig (Chekov on Star Trek)! (Watch online)
Saturday, April 22:
1) Film Geek: Another oddball romantic comedy about a total movie nerd who meets the girl of his dreams, but who already has a boyfriend. Written and directed by James Westby.
2) Nightmare: The closing night film is a horror/thriller by Dylan Bank about a film student who may or may not be a serial killer. You can watch the trailer on the IFC website, too.
Check out the CUFF website for times, locations and listings of short films.