Bruce Baillie At Los Angeles Redcat Theater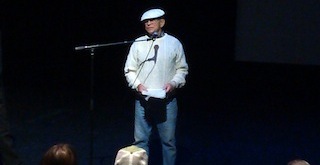 Iconic underground filmmaker, and the founder of the underground filmmaking movement in San Francisco in the early 1960s, Bruce Baillie made an appearance at a two-night retrospective of his work at Los Angeles's Redcat Theater on November 3 & 4. The Underground Film Journal attended the second night of screenings, from which the photograph above and the ones in the gallery below were taken.
The November 3 screening, which the Journal missed, included Baillie's films Here I Am (1962), Tung (1966), All My Life (1966), Castro Street (1966), Valentin de las Sierras (1968), Little Girl (1966).
The November 4 screening was of Baillie's feature-length epic, Quick Billy (1970), plus the short film Roslyn Romance (1977) and some unedited 16mm camera rolls taken around the time of the production of Quick Billy.
While Quick Billy is an astounding piece of film art, the real highlight of the Nov. 4 screening was the appearance of Baillie himself, who spoke for what seemed about an hour before the film. While appearing in terrific spirits, Baillie made numerous mentions of his failing health and remarked that this would most likely be his last stop in Los Angeles in his lifetime.
During his time in front of the microphone, Baillie spoke very little to none about his own filmmaking and instead chose to talk about other films, TV shows and actors whom he admired, such as Young Frankenstein (one of his favorites), Madeline Kahn, Johnny Carson and a British WWII film the Journal can't remember if he ever got around to mentioning the title of.
Baillie, in person, is one of the most peaceful, serene and loving of life presences imaginable, having a near Buddha-like calmness and enthusiasm and feeding off of the energy of the audience that hung onto his every word.
The only time that the filmmaker discussed his role in fostering an underground film community in San Francisco was when he was egged on by Redcat curator Steve Anker, who other than that moment just let Baillie free associate on the stage. Baillie only briefly talked about hanging a sheet in his backyard and projecting films onto it from the kitchen window for his now legendary Canyon Cinema screenings; and mentioned the involvement of "Chickie," aka Chick Strand.
Quick Billy, which was screened from a pristine 16mm print borrowed from a private collector, is a singular piece of film art. While it is difficult for film artists to maintain a concept for a feature-length experimental film production, Baillie's rich texturing of images, concepts and sound make Quick Billy seem effortless. That peacefulness and serenity that is found in the filmmaker's personality, comes through in the film in spades, as natural images blend into one another for the film's first three quarters.
The final segment of the film, featuring Baillie as the eponymous Quick Billy, is a shocking, quasi-narrative contrast to what precedes it, but still works as a cohesive, thematic whole.