British Underground Film Posters Of The '70s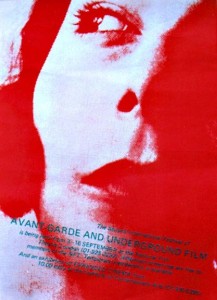 Now this is a real find. The British Artists' Film & Video Study Collection has posted up a gallery entitled "British Avant Garde Film Poster Art 1966-85," which is exactly what the title says it is: An online gallery of posters promoting underground film screenings.
Click all posters to embiggen!
The poster gallery is divided up into three sections: Screenings of individual artists, festivals and other group events, and periodicals. I love checking these things out because for my Underground Yearbook series, I've been trying to get a sense of what types of underground film screenings were going on in the '70s. It's kind of easy to find out who was making films during this period, but where were the finished products actually being shown? I know places like the Anthology Film Archives and the Study Collection have collections of screening and festival posters and program guides at their physical locations, but this info isn't available for online research, nor are there books published of them. So, it's tough to figure this stuff out without going and visiting these places.
Many, if not most, of the posters in the Study Collection's gallery don't give much info. For example, the top poster by Stephen Dwoskin is for the Second International Festival of Avant Garde and Underground Film held in 1973. (Click all posters to embiggen.) But, beautiful poster nonetheless and one can at least get a feel for the time period, if not the specifics. I put that one at the top because I think it's my favorite. Here's a few more:
Check out the full gallery for more great posters, including ones for Michael Snow's Wavelength, more Warhol films, a Filmaktion event and several London Filmmakers Co-op screenings.