British Underground Film Posters Of The '70s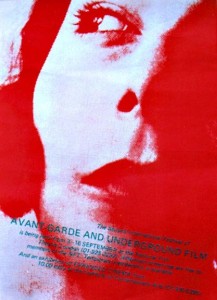 Now this is a real find. The British Artists' Film & Video Study Collection has posted up a gallery entitled "British Avant Garde Film Poster Art 1966-85," which is exactly what the title says it is: An online gallery of posters promoting underground film screenings.
Click all posters to embiggen!
The poster gallery is divided up into three sections: Screenings of individual artists, festivals and other group events, and periodicals. I love checking these things out because for my Underground Yearbook series, I've been trying to get a sense of what types of underground film screenings were going on in the '70s. It's kind of easy to find out who was making films during this period, but where were the finished products actually being shown? I know places like the Anthology Film Archives and the Study Collection have collections of screening and festival posters and program guides at their physical locations, but this info isn't available for online research, nor are there books published of them. So, it's tough to figure this stuff out without going and visiting these places.
Many, if not most, of the posters in the Study Collection's gallery don't give much info. For example, the top poster by Stephen Dwoskin is for the Second International Festival of Avant Garde and Underground Film held in 1973. (Click all posters to embiggen.) But, beautiful poster nonetheless and one can at least get a feel for the time period, if not the specifics. I put that one at the top because I think it's my favorite. Here's a few more:
This next one kills me. It's for the Perspectives on British Avant-Garde Film show held in 1977 and it clearly lists all the films included, but the scanned image is too blurry to read it properly: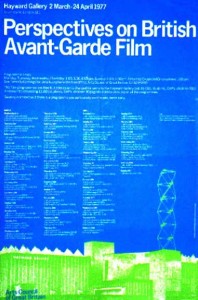 Next, I love the design by Biddy Peppin for this 1968 screening of Andy Warhol's Bikeboy: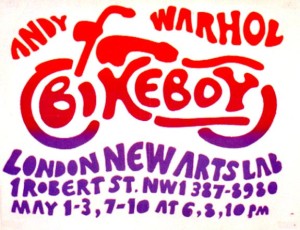 Same goes for this 1968 screening of "The New American Cinema":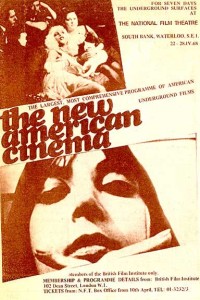 This poster for the 1970 International Underground Film Festival includes the names of the filmmakers who had work shown, which includes Carolee Schneemann, Hollis Frampton, Bruce Baillie, Gerard Melanga, Naomi Levine, Bruce Conner, Otto Muehl, Kurt Kren, Shirley Clarke, Tom Chomont, Dore O, Andy Warhol, Stan Brakhage, Gregory Markopoulos, Paul Sharits and more: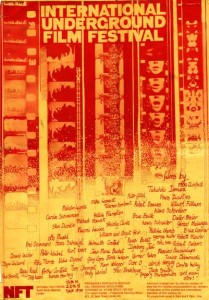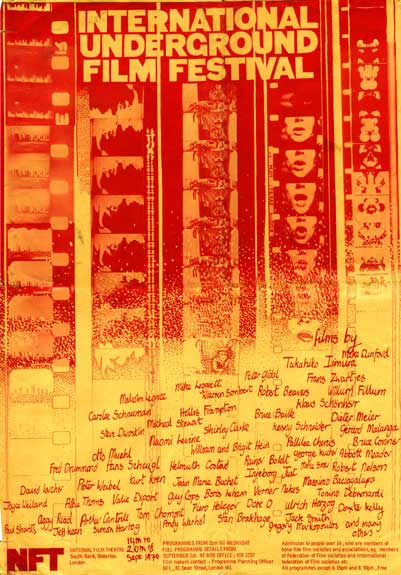 Lastly, this poster is just plain text, but it's the one I can read the most clearly. It's for a three-week screening series of late-night underground films at the Round House Club. It's a lineup to kill for and I've re-typed it below for easier reading: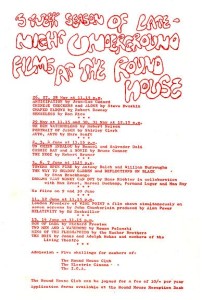 Anticipation, dir. Jean-Luc Godard
Chinese Checkers, dir. Steve Dwoskin
Chafed Elbows, dir. Robert Downey
Senseless, dir. Ron Rice
Oh Dem Watermelons, dir. Robert Nelson
Portrait of Jason, dir. Shirley Clarke
Auto, Auto, dir. Haro Senft
Un Chien Andalou, dirs. Luis Bunuel & Salvador Dali
Cosmic Ray, dir. Bruce Conner
A Movie, dir. Bruce Conner
The Edge, dir. Robert Kramer
Towers Open Fire, dirs. Antony Balch, William Burroughs
The Way to Shadow Garden, dir. Stan Brakhage
Reflections on Black, dir. Stan Brakhage
Dreams That Money Can Buy, dir. Hans Richter
Wide Point, dir. John Chamberlain
Relativity, dir. Ed Emshwiller
Son of Dada, dir. Richard Preston
Two Men and a Wardrobe, dir. Roman Polanski
Sins of the Fleshapoids, dir. Mike Kuchar
The Brig, dir. Jonas Mekas
Check out the full gallery for more great posters, including ones for Michael Snow's Wavelength, more Warhol films, a Filmaktion event and several London Filmmakers Co-op screenings.