Breathdeath — Stan Vanderbeek
Breathdeath by Stan Vanderbeek (1963).
At the EXPRMNTL 3 film competition at Knokke-le-Zoute, Belgium in 1963, Breathdeath tied for 2nd place with Gregory Markopoulos's Twice a Man. Both men took home $2,000 in prize money.
In An Introduction to the American Underground Film, Sheldon Renan classifies Breathdeath as a "protest film," which was a minority of underground film genre at the time. Renan also describes Breathdeath as a "collage of film technique" and considers it Vanderbeek's best film. Throughout the book, Renan gives different completion years, both 1963-64 and just 1964. Although, in the film's on-screen text, Vanderbeek gave the film a 1963 copyright. (See below.) (Stephen Dwoskin's Film Is also gives Breathdeath a completion year of 1964; as does the film's listing on the Film-makers' Coop website.) However, the third Canyon Cinema Cooperative Catalog gives a year of 1964. Presumably, that's the year that Vanderbeek would have given them.
That third Canyon Cinema Catalog, published in 1972, also offers this description of the film:
Bell Telephone Prize, Third International Experimental Film Competition, Knokke-Le Zoute, Belgium, 1964. Prizes at Midwest and Ann Arbor Film Festivals, 1964. Dedicated to Charlie Chaplin and Buster Keaton. A surrealistic fantasy based on the 15th century woodcuts of the dance of the dead.

"… a film experiment that deals with the photo reality and the surrealism of life. It is a collage-animation that cuts up photoes and newsreel film and reassembles them, producing an image that is a mixture of unexplainable fact (Why is Harpo Marx playing a harp in the middle of a battlefield?) with the inexplicable act (Why is there a battlefield?). It is a black comedy, a fantasy that mocks at death…a parabolic parable." –S.V.
(The misspelling of "photos" as "photoes" is in the Catalog. Unknown if this was unintentional or a play on a word, which Vanderbeek frequently toyed with in his writings.)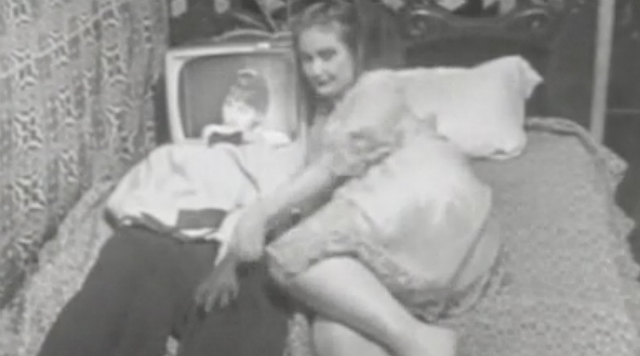 According to a document published in Scott MacDonald's Canyon Cinema, in 1970, Breathdeath was one of five films acquired by the Australian National Library's study collection. Also, filmmaker Bruce Baillie wrote in a letter that he traveled the country in either 1964 or 1965 screening Breathdeath, Kenneth Anger's Scorpio Rising and his own Mass.
For an expanded cinema performance piece at the New Cinema Festival I on November 2, 1965; Nam June Paik projected Breathdeath onto a screen that he shaped with his hands and cut a hole in so that a woman's long red hair spilled out.
The title Breathdeath is almost uniformly written as one word. However, during the on-screen title sequence, the words Breath and Death appear separately. The full title text is below.
Breath and Death appear separately
dedicated to…… Charlie Chaplin and Buster Keaton
A Trageede in Masks
A Visible Fill'm
By S. Vanderbeek
copyright mcmixiii
Soundtrack by Jay Watt
With Many Thanks To Si Fried
(Si Fried was a filmmaker who only has one film in the Film-Makers' Cooperative catalogue, the un-dated Out of Sight. The Underground Film Journal is unable to find information on Jay Watt at this time.)