Bradford International To Honor Peter Whitehead
Radical '60s filmmaker Peter Whitehead is typically left out of most narratives of underground film history, but the Bradford International Film Festival, which runs this year March 13-28 in the U.K., is set to give the director his due. In addition to a retrospective of Whitehead's films, BIFF will also be screening the documentary By Any Old Light which records the historic first meeting between Whitehead and South African experimental filmmaker Aryan Kaganof. By Any Old Light is co-directed by Dionysos Andronis and Ca Ca Ca and screens on Tues. March 17.
Born in Liverpool in 1937, Whitehead made just a handful of documentaries in the '60s both in his native country and in the U.S. BIFF isn't screening all of Whitehead's films, but the ones they are include Led Zeppelin: Live at the Royal Albert Hall, which is a document of the band's performance in 1970; and Tonite Let's All Make Love in London, an experimental documentary on the burgeoning rock 'n' roll and nightclub scene that features Pink Floyd and Mick Jagger among others. Embedded above is a video that says it's a "promotional" trailer for Tonite. However, it runs nine minutes long and I think it may also have been released separately as Pink Floyd London '66-'67. Regardless, this is an amazing clip with a great '60s psychedelic vibe and, while I'm not the world's biggest Pink Floyd fan, the music here is fantastic.
BIFF is also screening Whitehead's Wholly Communion, a 16mm documentary recording of an infamous and influential Beat poetry reading at the Royal Albert Hall in 1965 that included Allen Ginsberg, Gregory Corso and Lawrence Ferlinghetti. Film historian and journalist Jack Sargeant covered the making of Wholly Communion and published a lengthy interview with Whitehead in his overview of Beat cinema, Naked Lens.
The Fall is probably Whitehead's most famous documentary, which is about the radical student scene in the U.S., particularly the violent Columbia sit-in of 1968. Daddy is a co-directional effort with star Niki De Saint Phalle and is the only film BIFF is screening of Whitehead's work that is not a documentary.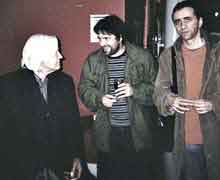 Lastly, Dionysos and Ca Ca Ca's By Any Old Light shows South African director Aryan Kaganof meeting his idol Whitehead for the first time. The film casts Kaganof almost as a student as Whitehead discusses his philosophies on life, filmmaking and terrorism, while also periodically inserting clips from both directors' works. While I haven't seen any of Whitehead's films, I did thoroughly enjoy By Any Old Light, which was the first time I was even introduced to his name.
When reading histories on underground film, Whitehead's name rarely comes up. For whatever reason his work doesn't fit in with the established canon, but it may be the result of him dropping out of the film scene in the early '70s. After making movies, he became a professional falconer for a Saudi prince and has written several novels, including the cyber-novel Nohzone. Whitehead has said, though, that he may make a new film out of Nohzone.
But, for now, for more info on BIFF and the Whitehead retrospective, please visit the festival's official site.