Boston Underground Announces 2011 Opening Night Film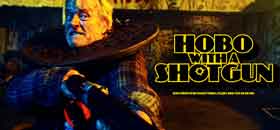 The Boston Underground Film Festival has announced the movie that will open their lucky 13th annual edition on March 24: Jason Eisener's much anticipated Hobo With a Shotgun.
The film is an over-the-top gorefest starring Rutger Hauer in the title role, a homeless man fed up with the drug dealers, criminals and rampant degeneracy that has overtaken his home city. With his trusty firearm, Hauer dispenses a mean, bloody justice in an overwhelming effort to clean up the streets.
Initially conceived as a fake trailer to play along with Quentin Tarantino and Robert Rodriguez's 2007 Grindhouse homage, the wildly popular short film was fast tracked to be Eisener's feature film directing debut, especially after landing the dream casting of Hauer.
The feature version of Hobo With a Shotgun just made its World Premiere at the Sundance Film Festival, where it was generally praised and admired for its go-for-broke, surreally violent action. Watching the trailer below, one can see just how gory and brutal — but with a cheerful good humor — it is.
This is Eisener's second film at BUFF. His previous film, Treevenge — another twisted and gory romp — won the Best of Fest (Short) Award at the 2009 Boston Underground Film Festival. You can watch that short film online here. Treevenge was produced between the original Hobo With a Shotgun fake trailer and the feature film.
Hobo With a Shotgun has also been picked up for theatrical distribution by Magnet Releasing. You can also read all about the making of the movie at its official website.
The 13th annual Boston Underground Film Festival will run March 24-31 at the Kendall Square Cinema. The full lineup of the festival will be posted to the Underground Film Journal as soon as it's announced.
Watch the Hobo With a Shotgun movie trailer: