Blazes — Robert Breer
Blazes by Robert Breer (1961)
Robert Breer is one of the few filmmakers who rose to prominence during the 1960s underground film movement who worked exclusively in animation. After graduating from Stanford with a degree in painting in 1949, Breer moved to Paris where he started making films a few years later.
In this regard, Breer was not unlike the European avant-garde filmmakers of the 1920s, such as Hans Richter and Viking Eggeling, who moved from painting to making films. However, according to P. Adams Sitney in Visionary Film, Breer would have had only a casual understanding of these early pioneers. In the mid-1950s, Breer would move back to the U.S.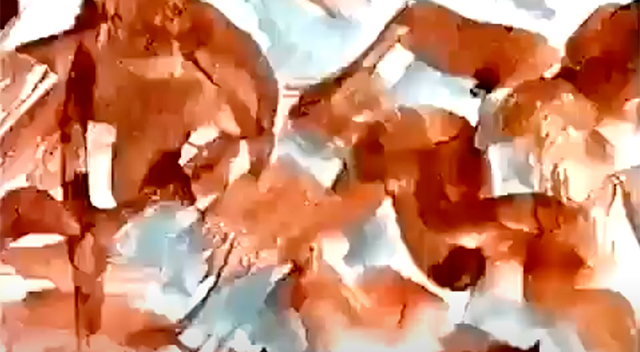 Blazes is one of Breer's most well-known films and was created using 100 cards painted with "bold, free-drawn shapes and rough calligraphic lines," as described in Visionary Film. Breer then shuffled the cards and photographed them in "irregular alternations of one and two frames each".
Breer's own description of the film in the Film-makers' Cooperative Catalogue No. 4 in 1967 says Blazes is "100 Basic images switching positions for 4 thousand frames. A continuous explosion." It was filmed in 16mm, runs 3 minutes, and rented for $5.
As a pioneering avant-garde work, several books have written about Blazes' effect on viewers:
The single-frame accumulation results in the viewer receiving impressions without retaining any one single image.
— Film Is, Stephen Dwoskin
As in Vertov's experiments, two different images immediately following each other on consecutive frames create super-impostions that do not exist in reality.
— Film as a Subversive Art, Amos Vogel
…the chain of different images means the eye has to choose what it wants to see.
— Experimental Cinema, David Curtis
Despite the acclaim that Blazes would eventually garner, Jonas Mekas noted in his "Movie Journal" column of January 16, 1964 in the Village Voice that the film was rejected by the jury of the Third International Experimental Film Exposition at Knokke-le-Zoute, which was one of the most important avant-garde film festivals of the time.
The Underground Film Journal recognizes that the above embedded version of the film is not the ideal way to experience it at all. Breer's work doesn't seem to be available from the Film-makers' Cooperative anymore, but is currently for rent from Canyon Cinema for $35.
A title card is shown a few moments into the film, saying:
Blazes by Robert Breer
The film then ends with a title card saying simply "The End".