Blast From The Past: El Frenetico And Go-Girl
For some readers, this will just be a mean tease. But, back in the mid-'90s, filmmaker Pat Bishow created an awesome series of short superhero films called The Adventures of El Frenetico and Go-Girl, about a fat, drunken Mexican wrestler and his spunky, kung-fu-ing sidekick. Bishow used to sell the films on one VHS tape that has since disappeared from the marketplace. Above is a compilation of clips from the series that Bishow uploaded to YouTube a few years ago.
Although I've strung all of these clips into one long-running playlist — it probably runs about 9 to 10 minutes long total — I don't want to give the impression that Bishow meant to be seen in this order. I just like the way they flow in the order I put them in. The clips come from all different films in the series and don't have much connection, plus there's the opening credits and a few promotional videos thrown in. It should give a good feel for how the overall series played.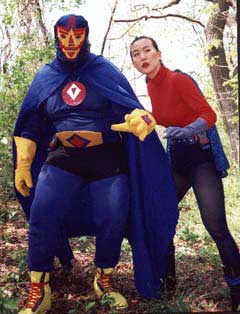 I'm not sure what life the films had at the time, but I think these days there would be a segment of the underground film world that would embrace them. They're fun with great fight sequences, goofy villains, a hint of a dark side to them and overall pretty inventive. Maybe there will be a good chance they'll pop up in full online someday. (hint, hint)
I believe I got acquainted with the films through Mike White's legendary film zine Cashiers du Cinemart and his original review of the films is online. This was also probably pre-Underground Film Journal, so I never wrote about them online myself, although I'm trying to make up for that with this.
You can also see some of Bishow's other work at his Amusement Films YouTube channel.