Battle For Brooklyn: 5th Best Movie Of The Weekend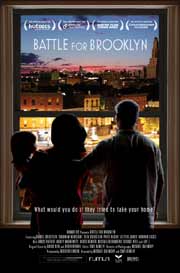 First reported by Develop Don't Destroy Brooklyn, the documentary Battle for Brooklyn was the 5th best movie of this past weekend, based on a per screen average. The film made a weekend gross of $11,141 playing at just one theater, Cinema Village, in NYC. These figures were derived from the website Box Office Mojo. The film is doing so well that it's being held over at the theater until July 1. Find showtimes and ticket info on the Cinema Village website.
Battle for Brooklyn is a documentary co-directed by Michael Galinsky and Suki Hawley that chronicles the long 7-year struggle of local residents against the proposed development of a basketball stadium and 16 skyscrapers in downtown Brooklyn planned by the company Forest City Ratner. The aggressive building plans meant the displacement of nearly 1,000 local residents.
The Underground Film Journal reviewed the documentary just previous to its release, saying it "has everything you want in a great political thriller."
Develop Don't Destroy Brooklyn is an advocacy group that was organized to stop or alter Forest City Ratner's plans. One of the organization's main members, Daniel Goldstein, is the primary focus of the film.
Battle for Brooklyn is being distributed by Rumur Releasing, which is jointly run by Galinsky, Hawley and David Beilinson. Rumur is rolling out the film to other cities over the summer.