Barbara Hammer: Maya Deren's Sink (Excerpt)
Yes, even an inanimate object can be fascinating in this excerpt from Barbara Hammer's Duchampian exercise Maya Deren's Sink, in which an ordinary bathroom fixture is given great cultural significance. Of course, the movie is about much more than a sink. Instead, the object is used as a conduit to explore the legacy of Deren's impact on the world, both by the films she made and by her, shall we say, larger than life personality.
If you happen to watch a lot of Pawn Stars on the History Channel, as I have been lately, you'll have learned that just because an item is old and was owned by a famous person that that doesn't magically conjure upon it great monetary value. However, there is great emotional value placed upon such things, such as this particular sink that is a great conversation starter.
"Why, this is a lovely bathroom sink you have. It's such an antique."
"Did you know that was owned by Maya Deren?"
"You're kidding me! Really?"
Heck, I'd wash my hands in it even if I hadn't just gone to the bathroom.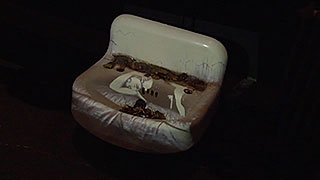 Honestly, we only know this is Deren's sink just because Hammer tells us it is. And, well, why would we doubt her? But, I particularly like how Hammer has filmed it, basically turning it into a movie screen. And by doing that, the act of seeing Deren's image on the sink elicits an emotional attachment to it for those who have been touched by Deren's films.
For others, seeing Deren's image elicits a different emotion. A few of the talking faces interviewed for this film are respectfully polite in regards to describing Deren's boisterous attitude. In her films, Deren is silent and cuts a demure figure on-screen. She's pretty and petite. However, apparently, her demeanor was much more intense than her movie persona lets on. (I've heard that before, so it didn't come as quite a shock to me.)
Hammer also recreates a few scenes from Deren's first film Meshes of the Afternoon outside of the actual house where it was filmed. Watching Maya Deren's Sink, you can piece together the address, which is just a few blocks north of the famous Sunset Strip in West Hollywood. If you walked down the road from that house today, you could grab a hot dog in the Carney's train, have a few laughs at the world famous Comedy Store, or if you felt like walking a little bit, you could hang out at the popular Chateau Marmont, the location of Sofia Coppola's recently released Somewhere.
Barbara Hammer has been making films since 1968 and you can watch several more examples of her work on Vimeo, or read up on her on her official website. Or, if you really want to learn more about Hammer, check out the list of videos and scholarly links impressively compiled by Catherine Grant on Film Studies for Free. You can read go through those and probably learn a few things Hammer doesn't even know about herself.
Lastly, if this intrigues you enough to want to watch Maya Deren's films, you can find them streaming on Netflix.