Australian Police Raid MUFF Director's Home!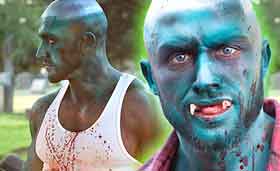 On Thursday, Australian authorities raided the home of Richard Wolstencroft, director of the Melbourne Underground Film Festival, looking for a copy of L.A. Zombie, the controversial Bruce LaBruce hardcore gay pornographic film that MUFF screened back on August 29.
Prior to fest, in July, the government Classification Board refused to grant an exemption to the film so that it could be screened legally in a public setting. In defiance of the ruling, MUFF went ahead and held a "secret" screening of the film that was publicly announced as pre-planned, but exact details of the location and time weren't given out until the day of on Facebook.
Australian newspaper The Age reports that about 200 people attended the screening. Authorities never appeared at the screening and Australian society failed to crumble in the screening's wake. But, three months later, three detectives brandishing a warrant swept through Wolstencroft's home looking for the screening copy of the film.
As The Age also reports, the detectives considered removing all of Wolstencroft's DVDs and his computers holding footage of his currently in-production films. It was only after Wolstencroft insisted that the only copy of the film was destroyed after the screening that the police decided to leave empty handed.
However, Wolstencroft has been informed that he will have to eventually appear in court. He's also, rather stoically, standing up and taking sole responsibility for the illegal screening.
L.A. Zombie is Canadian filmmaker Bruce LaBruce's second gay horror movie after 2008's Otto; or, Up with Dead People. While the film has been banned from being screened in Australia, it has screened all over the world, including the 2010 Toronto International Film Festival and the B-Movie, Underground and Trash Film Festival in the Netherlands.
While this is the first time charges have been brought against Wolstencroft for screening a banned film, the Melbourne Underground Film Festival has had run-ins with the the Classification Board and the police before. Back in 2007, seven films picked for the 8th edition of MUFF were denied exemptions, a ruling with which MUFF complied. Reports at the time were that police actually did show up at scheduled screenings of the banned films to make sure they weren't actually screened.
One of the reasons why the Classifications Board denied so many films to be screened in 2007 was perhaps a retaliatory gesture. In 2006, the Board banned a film that MUFF also screened in defiance, although there was no police involvement following that edition of the fest.
So, there's been quite a history between MUFF and the Classifications Board, which has now escalated into legal action being brought against Wolstencroft. In the moments after the raid, Wolstencroft announced what had happened on Twitter, but then immediately clammed up following legal advice.
In addition to running MUFF, Wolstencroft is also a filmmaker. He's currently in production on three films: A documentary about a trip he took to Africa, a documentary on adult film actor Michael Tierney and an adaptation of the William Butler Yeats poem Second Coming. His previous film, a brilliant adaptation of F. Scott Fitzgerald's The Beautiful and Damned will be released on DVD in 2011.
It's a good bet that Wolstencroft won't blog about this incident prior to his court date, but you can follow him at his website Idea Fixe.
The Underground Film Journal is hoping things go the best they can for Wolstencroft regarding this entire ugly situation. It's gotta be incredibly stressful, so we're really pulling for him.
Lastly, Jack Sargeant has penned a fantastic open letter in support of Wolstencroft and MUFF.