Australian Court Offers Wolstencroft Diversion Notice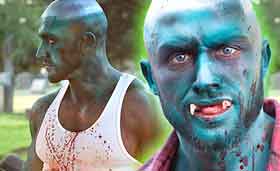 Richard Wolstencroft, founder and director of the Melbourne Underground Film Festival, has been offered a Diversion Notice by the Australian Court following his unauthorized screening of the film L.A. Zombie, directed by Bruce LaBruce, way back in August, 2010. Wolstencroft's home was subsequently raided in November by authorities looking for copies of the film. As of this writing, Wolstencroft has not announced whether or not he will accept the notice's provisions.
In Australia, a Diversion Notice can be granted to a first time offender so that the accused can pay a penalty, but felony charges will not appear on his official record. In Wolstencroft's case, he's being offered the choice to simply donate a so-far undisclosed amount of money to a charity for the offense of screening a movie.
Wolstencroft does have the option of refusing the Diversion Notice's demands. If that were to be the case, he could go to court to challenge the charges against him and, if found guilty, be sentenced to two years in prison and pay a hefty fine. According to an official press release from the Melbourne Underground Film Festival, Wolstencroft seems to be debating the merits of going to court or not.
Clearly, accepting the Diversion Notice would make the case quickly and quietly go away, but a courtroom trial offers the opportunity to publicly debate the draconian censorship laws of Australia's Office of Film and Literature Classification (OFLC).
Films screening at a film festival in Australia need to be approved by the OFLC. That approval was not given to the Melbourne International Film Festival when it attempted to screen L.A. Zombie. While that festival followed the OFLC's ruling, Wolstencroft set up an "illegal" secret screening at his own Melbourne Underground Film Festival on Aug. 29, 2010 in defiance of the OFLC.
L.A. Zombie was not placed on the official 2010 MUFF schedule. Instead, interested parties found out about the screening via the fest's Facebook page the day of. At the time, no Australian officials showed up at the screening to stop it. However, three months later in November, several detectives showed up at Wolstencroft's home to search for a copy of the film. They didn't find any since Wolstencroft had destroyed his only copy of the film immediately after the screening.
Debating the artistic merits of L.A. Zombie seems totally irrelevant in this case even though its director Bruce LaBruce is a celebrated indie filmmaker from Canada whose films have screened at numerous film festivals all over the world, including L.A. Zombie. LaBruce has also been profiled in mainstream filmmaking publications such as Filmmaker Magazine.
It seems peculiarly antiquated that a government agency of a major country such as Australia would actively prevent adults from gathering to watch a movie of their choice, even if that movie contains explicit sexual conduct. Honestly, it's beyond antiquated. It's outrageous.