Astria Suparak: Out!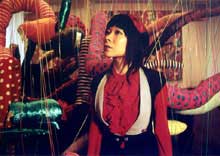 It looks as if Friday, Sept. 28 will be superstar curator Astria Suparak's last day at the Warehouse Gallery in Syracuse, NY. She was officially canned on Sept. 7 and given until the end of the month to vacate. The reason for her dismissal being given by Jeffrey Hoone, the executive director of the Coalition of Museums and Art Centers at Syracuse University, was due to a restructuring of the gallery's leadership. Yeah, "restructuring" Astria right out the door. Hoone also says he's unable to give further details since it's all a very confidential matter.
Despite massive protests, including a several hundred citizen walk out Sept. 20 and many, many emails and letters written, which are chronicled on the Syracuse Loses Again blog, it appears that Hoone isn't budging and Astria is abruptly out of a job. Despite Hoone's extra-super-duper secret restructuring explanation, many feel Astria got the boot over the controversial nature of her latest gallery show, "COME ON: Desire Under the Female Gaze," a program that explores the discrepancy between the acceptable male subjugation of the female form in art and the overwhelming lack of female perspectives on passive male sexuality.
The Syracuse Loses Again blog has also posted up a fascinating email exchange between Astria and Hoone that was provided by Tom Sherman, a professor of Art Video at SU (Art Video? Sounds like an awesome class…) In the emails, Hoone comes across as extremely apprehensive of the "Female Gaze" show and totally worried about a massive community backlash. Now, the community backlash is regarding his canning of Astria.
At the same time as the firing, the Syracuse Common Council has unanamously appointed Astria to the city's Public Arts Commission. However, this is just a volunteer position and not a real job. Astria's staying in Syracuse is dependent on whether or not she can find a similar job at the university or in the city.
I hope somebody does something in an official capacity, whether it's staying at the Warehouse Gallery or at the university. I haven't corresponded with Astria personally in a year or more, but she was always very gracious and nice after I covered some of her curated events at the New York Underground Film Festival. She deserves better than this.