Anybody's Woman — Bette Gordon
Anybody's Woman by Bette Gordon (1981)
Starring Nancy Reilly and Spalding Gray
In the 1970s, filmmaker Bette Gordon was associated with the Structuralist style of experimental filmmaking. For example, there is a review in the first issue of Idiolects of a screening event she shared with James Benning at the Millennium Film Workshop on June 12, 1976. The only film of Gordon's noted in the review was Noyes (1976). Both Gordon and Benning were teaching filmmaking at the University of Wisconsin-Madison at the time. (A letter by Gordon in the 2nd issue of Idiolects takes umbrage at the mostly negative review.)
Anybody's Woman represents Gordon's shift into narrative filmmaking in the 1980s while not totally abandoning her experimental film roots. The film is clearly not a traditional narrative, but is a collection of short monologues — delivered on and off screen — interspersed with purely visual sequences of mostly New York City's seedy Times Square neighborhood.
According to an interview with Gordon in Downtown Film and TV Culture: 1975–2001, the title of Anybody's Woman comes from the similarly named title of a 1930 pre-code film by Dorothy Arzner, one of the few women directors working in Hollywood from the '20s to the '40s. The voiceover while Reilly flips through pornographic photos and Hollywood publicity stills is writer Karyn Kay describing Arzner's film.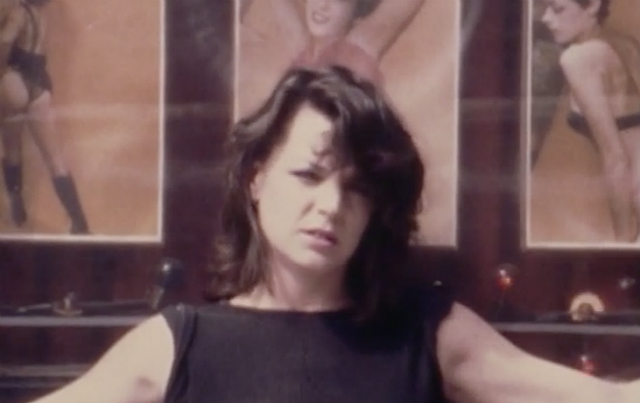 In Gordon's description on Vimeo of making Anybody's Woman, she writes that she was given $75 by Art's Space in NYC to create a film for an event called "Emergency." Gordon shot the film on Super 8mm and asked her friends Spalding Gray and Nancy Reilly, both of the Wooster Group, to talk about their experiences with pornography on camera. A photo of Gordon at the Emergency show at NYC's The Kitchen in 1981 is in the book Variety: Photographs by Nan Goldin.
While Anybody's Woman features numerous street scenes of NYC's Times Square, the Variety theater that features prominently in the film was actually downtown on 3rd Avenue at 13th Street. The Variety was operating at the time as a porn theater; and Gordon would go on to use the theater as the main location of her feature film Variety (1983).
In addition to the Emergency show, Anybody's Woman screened again at The Kitchen on May 27, 1982 at 10:30 p.m. The screening was part of the fourth annual Filmworks survey of independent cinema. That year's Filmworks was curated by Amy Taubin and Anybody's Woman screened as part of a program of Super 8mm films.
The film opens with a title card typeset on a fashion photograph that just reads: Anybody's Woman.
The end credits are also typset on fashion magazine advertisements. They read:
Bette Gordon 1981
---
with:
Nancy Reilly
Spalding Gray
Mark Heidrich
Tom Wright
---
Voice Over Story:
Karyn Kay