Anthology Film Archives: Psychogeographies

March 14
7:30 p.m.
Anthology Film Archives
2nd Ave at 2nd St.
NYC, NY
Hosted by: Flaherty Seminar
Take an unusual tour of the planet with this collection of short films all produced in 16mm and "centered around themes of environment, cognition and emotion." The screening includes two films by Joel Schlemowitz and one film each by Kathryn Ramey and Jason Livingston.
All three filmmakers will be in attendance at the screening and will participate in a discussion moderated by Colin Beckett, Critical Writing Fellow at UnionDocs.
The two films by Joel Schlemowitz — who teaches filmmaking at the New School — are Weimar, an ode to Bohemia starring MM Serra, Stephen Callahan, Marchette DuBois, Lee Ellickson and others; and Tombeau for Arnold Eagle, a tribute to Robert Flaherty's cinematographer and a mentor to Schlemowitz.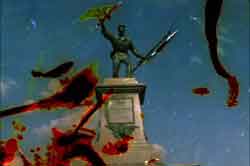 Kathryn Ramey — an associate professor at Emerson College — presents Yanqui WALKER and the OPTICAL REVOLUTION, an experimental documentary William Walker, the American who became president of Nicaragua in 1856. The film combines found footage, personal travelogue and documentary photography through hand-processing, optical printing and hand-conducted time-lapse to explore the various histories surrounding Walker's unusual story.
Jason Livingston — who is currently based in Ithaca, NY — presents Under Foot & Overstory, a documentary about the Friends of Hickory Hill Park, an environmental group trying to protect an urban parkland in Iowa City, Iowa.
You can learn more about these filmmakers at their official websites: Schlemowitz, Ramey, Livingston.
List of films screening:
Yanqui WALKER and the OPTICAL REVOLUTION, dir. Kathryn Ramey (2009, 33 mins.,16mm)
Weimar, dir. Joel Schlemowitz (1996, 8 mins., 16mm)
Tombeau for Arnold Eagle, dir. Joel Schlemowitz (1994, 4 mins., 16mm)
Under Foot & Overstory, dir. Jason Livingston (2005, 35 mins., 16mm)