Anthology Film Archives: From The Woods

Dec. 16
7:45 p.m.
Anthology Film Archives
2nd Ave at 2nd St.
NYC, NY
Hosted by: New Filmmakers
Rebecca Conroy's gorgeous new short film From the Woods is playing in a short film block at New Filmmakers. While the film hasn't been officially reviewed on the Underground Film Journal yet, I've had the honor of seeing an advance copy of it and it's as fabulous as Conroy's previous work, if not more. This screening is as highly recommended as they come on this site.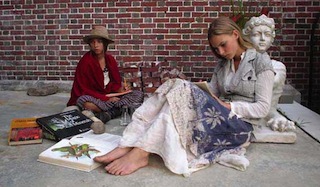 From the Woods runs 18 minutes and it's a cross between an episode of Degrassi High, a gothic Southern romance, an '80s punk rock movie and a high fashion spread. (Really, the costuming is terrific.) Clover and Roxie (real life sisters Wren and Lilie Bytheway-Hoy) are two close-knit Southern home-schooled teenage sisters who have little contact with the outside world. But their their relationship is turned upside down when Roxy falls for Ethan (Colin Stein), a punk rock Casanova who sweeps her off her feet. Things turn even more complicated when another girl, Bianca (Hannah Dunne) has eyes for the same boy.
I don't have a trailer for the film, but click the image below to see an image gallery of film stills. And below that is the full New Filmmakers short film lineup that includes From the Woods.
7:45 p.m.: "Short Films"
No Dice, dir. Josh Badham (2009, 2 Minutes, Video)
The Columbia Project, dir. Colin Rich (2009, 8 Minutes, Video)
Grand Gorge: No God But Me, dir. Erika Yeomans (2008, 12 Minutes, Video)
From the Woods, dir. Rebecca Conroy (2009, 18 Minutes, Video) (Watch Online)
Water in the Boat, dir. David Gutierrez Camps (2009, 18 Minutes, Video)
Invert the Vessel, dir. Joel Neville Anderson (2009, 33 Minutes)
9:30 p.m.: Feature Film
Untitled Chapters, dir. Igor Yankilevich