Animated Short Film: Munk And Monster
A chipmunk having his own private tea party gets rudely interrupted by an enormous hairy beast in Jo Dery's amazingly charming short film Munk and Monster that packs great characterizations, suspense and love into a package of under two minutes.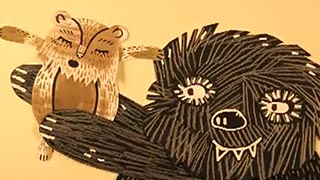 Jo Dery's animations are always instantly charming, especially when she's turning creatures with razor sharp teeth that will kill you — such as the flying rodents of Echoes of Bats and Men and the titular monster above — into cuddly and cute animals.
Munk and Monster is extra cute thanks to the chipmunk tea party and the warm and fuzzy happy ending. Sometimes we need more of those.
For more of Dery's work, please check out her Vimeo page.