Andrew Sarris: Underground Film Is For Lovers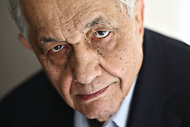 From the New York Times obituary for film critic Andrew Sarris, who passed away today:
In 1966, at a screening of Kenneth Anger's Scorpio Rising, Mr. Sarris noticed an attractive young woman, Ms. Haskell. He wandered over. "He had this courtly-as-learned-from-the-movies manner," Ms. Haskell recalled. "Afterward he took me out for a sundae at Howard Johnson."
("Ms. Haskell" is film critic Molly Haskell, who would become Sarris' wife.)
Scorpio Rising as hot heterosexual pick-up movie? Interesting…
The obituary also notes that Sarris was also a writer for the Mekas brothers' Film Culture magazine.