An Introduction To The American Underground Film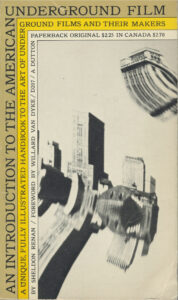 This is the fourth entry in my continuing series on classic texts on underground filmmaking. Previous entries are: Midnight Movies by J. Hoberman and Jonathan Rosenbaum; Movie Journal: The Rise Of The New American Cinema 1959-1971 by Jonas Mekas; and Underground Film: A Critical History by Parker Tyler.
This book came to me in an interesting way. In a Underground Film Journal review of a more modern book, Phil Hall's The Encyclopedia of Underground Movies, a George Renan left a comment saying that his dad, Sheldon Renan, had written this Introduction. Then, thanks to the always helpful Los Angeles Public Library system, I was able to get my hands on the copy in their collection. George: Thanks for leaving the comment. This is really a fantastic book and an invaluable resource. Like Mekas's Movie Journal, Renan's Introduction is long out of print, which is a crying shame. For anyone interested in the '60s underground film movement, this is a must read.
This is a fairly exhaustive book and while calling itself an "introduction," it reads more like an encyclopedia of the movement at the time. It's broken down into basic sections beginning with setting a definition of sorts of what "underground film" actually means. Renan acknowledges that "underground" encompases a wide variety of film styles, but the closest he comes to a concrete definition is:
It is a film conceived and made essentially by one person and is a personal statement by that person. It is a film that dissents radically in form, or in technique, or in content, or perhaps in all three. It is usually made for very little money, frequently under a thousand dollars, and it's exhibition is outside commercial film channels.
It's a very servicable definition, especially the notion of underground film as personal statement. Renan even threw in his own italics to emphasize the importance of the term.
Next up, Renan gives a very detailed history of the underground film and while, via the book's title, he's mostly interested in American filmmaking, there's a lot of background on the European avant garde, particularly in France, Germany and Russia in the '20s and '30s. He also divides the avant garde tradition in America into three "ages." The first one begins a few years prior to the Depression and only holds a couple of experimental filmmakers like Robert Flaherty, Paul Fejos, Ralph Steiner and a few others. After the Depression, and coinciding with the easy availability of sixteen-milimeter film equipment, the avant garde explodes with the pioneers still revered today: Maya Deren, Kenneth Anger, Gregory Markopoulos; as well as other lesser-known filmmakers such as Curtis Harrington, Sidney Peterson and Joseph Vogel — all of whom were located on the West Coast.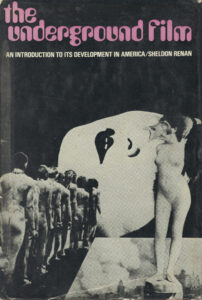 But, experimental film eventually comes East and the third "age" of the American avant garde begins with the work of Jack Smith, Jonas Mekas, Robert Breer, Mike and George Kuchar, Stan Brakhage, Ron Rice and a ton more. What's so great about Renan's book is it's exhaustive, comprehensive nature. Plus, it's so much more than the simple list of names like I'm doing here. Renan writes in depth about various film styles, who influenced whom and the book is littered with absolutely great frame grabs from many of the films that are written about. It's a fabulously illustrated book that one could endlessly flip through to admire the cinematic artwork.
The next section of the book is, if it were written today, would make a wonderful Wiki site of the underground filmmaking "stars." Several filmmakers are given in-depth, several-page-long biographies with fairly extensive filmographies. These include, of course, Anger, Mekas, Smith, Rice and Brakhage, as well as other filmmakers like Rudy Burckhardt, Bruce Conner, Ed Emshwiller, Ken Jacobs, George Landow, Marie Menken, Harry Smith and Andy Warhol.
The final portions of the book deal with the unique distribution of underground films; a look at the "expanded cinema" movement, which I'm not that interested in, so I kinda skimmed over that; and concluding with a 30+ page list of underground films available for rental at the time from houses such as the Canyon Cinema Cooperative, the Film-makers Cooperative and the Cinema 16 Film Library. While the rental information isn't so useful today, it's still a great list of films that can be used to track stuff down today.
Renan definitely committed himself to putting out an amazing resource and his book is a real killer of a read. Along with Mekas's Movie Journal, it's a classic and a must-have item for underground film scholars and fans.
Buy An Introduction to the American Underground Film from an Amazon.com seller!