American Messiah: Trailer Is An IFC Winner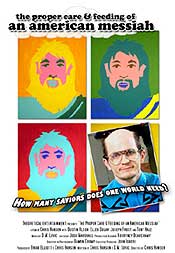 Writer/director Chris Hansen tells us that his trailer for The Proper Care & Feeding of an American Messiah got enough votes on the IFC Media Lab website and is now going to air as part of the "Shorts Uploaded" series on the IFC cable channel in October. Apparently the trailer won because I personally went and voted for him (and lots of other people, too, I guess).
The "Shorts Uploaded" episode featuring the American Messiah trailer will air:
Monday, October 2 @ 8:30 pm
Wednesday, October 4 @ 7:45am
Sunday, October 8 @ 8:05am
Monday, October 9 @ 7:10 am
We're really proud of Chris and will definitely be setting the DVR for this one. And hey, IFC, thanks for airing the trailer, now pick up the damn film for distribution already. You can read my snazzy review of it here. Or visit the film's official site.