American Messiah Gets Full DVD Release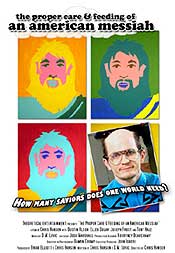 The Underground Film Journal is pleased and proud to announce that Chris Hansen's first feature, The Proper Care & Feeding of an American Messiah, a film we've been championing here for about the past year has finally secured DVD distribution. It's being put out by Reel Indies, the indie film division of Mill Creek Entertainment. The film will be sold in national retail stores, be available for rent on Netflix and offered for digital download. I don't have a release date yet, but we'll report back when we get one.
Here's the description of the film from my rave review:
The film really is a collection of sketches strung together with a loose narrative thread to at least keep things moving and to maintain a sense of moderate suspense. Brian B. (Dustin Olson) is a messiah without any disciples, save for his timid sister, Miriam (Ellen Dolan), and his mentally-challenged brother, Aaron (Joseph Frost). So, to gain some followers, Brian arranges to have a large rally to take place at the local civic center where he will come out and finally reveal his "special purpose" as a messiah — as soon as he figures out what that "special purpose" is. One other obstacle: As a messiah, Brian has never held a real job so he has no money to actually rent the civic center and put on the event.
This is a very funny, as well as thought-provoking, film that's been cleaning up at film festivals all over the country for months. So, it'll be nice to see in stores sometime soon, probably in the fall.