American Messiah Available On DVD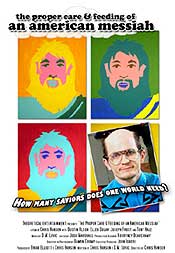 Director/writer/producer Chris Hansen has just released his debut feature, The Proper Care & Feeding of an American Messiah, on DVD. It's now available on DVD on Amazon. (UPDATE: It's also now streaming on Amazon.) Here's what I said about the film:
Dustin Olson does a really great job inhabiting the pathetic character of Brian B. It's a particularly difficult part since while Brian is basically a thoroughly unlikeable person, he can't be so off-putting that you're not willing to watch him. Brian is physically disturbing to look at with his enormous bald dome, patchy facial hair, '80s glasses and bad overall fashion. You almost have to feel sorry for the guy, until he starts verbally abusing his siblings and you realize what a lazy louse he truly is. It's tough to pull off revulsion and attraction at the same time, but Olson does so very successfully.
Read the rest of my review here. It's a great film and I recommend it. Also, in addition to the film, the Underground Film Press has published the film's screenplay. Last, and not least, and I hope he doesn't mind me saying so, but Chris is a heck of a nice guy and a film professor in addition to a filmmaker. He keeps a fun blog that I visit regularly and you should, too.
Buy the film. Read the screenplay. Read the blog. All good stuff.
Update: And as a bonus, here's the Messiah explaining his Messiahness: