American Messiah: AUFF's "Best Mock Doc"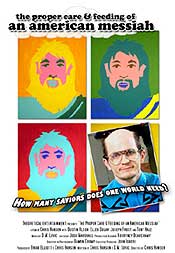 Filmmaker Chris Hansen reports on his blog that the Atlanta Underground Film Festival bestowed the "Best Mock Doc" award on his debut feature, The Proper Care and Feeding of an American Messiah. The Underground Film Journal gave the film a rave review last month, so we already knew it was a winner. Congrats to Chris!
We're also trying to get a full lineup of the winners from AUFF and hope to get that up soon.