American Cinematheque: Hollywood Outlaws: Clu Gulager and Damon Packard

Jan. 27
7:30 p.m.
Egyptian Theater
6712 Hollywood Blvd.
Los Angeles, CA
Hosted by: American Cinematheque
Prepare for a night of intense weirdness and cruelty with films directed by underground filmmaking legend Damon Packard and veteran character actor Clu Gulager. Screening will be Packard's magnum opus strangus, Reflections of Evil, as well as the world premiere of Clu Gulager's Fucking Tulsa; plus two of Gulager's older shorts, John and Norma Novak and A Day With the Boys.
Packard and Gulager will be in attendance to answer questions — oh, and there will be questions — between the films. Also in attendance will be Gulager's sons Tom and John; plus John's wife Diane Avala Goldner.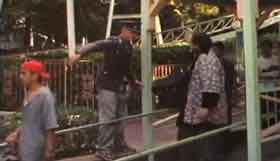 Reflections of Evil is a feature-length head trip about an obese watch salesman (Packard) who is haunted by the ghost of his dead junkie sister and who wanders the streets of Los Angeles in an angry, paranoid daze. The film is a mash-up of autobiography, pop culture detritus and nightmarish imagery. You can now watch Reflections of Evil online.
Clu Gulager is a longtime Hollywood character actor, famous for his appearances in Western TV shows and films in the '50s and '60s, as well as cult horror movies in the '80s such as Return of the Living Dead. Over the course of his career, he also directed three short films.
A Day With the Boys (1969) features cinematography by the great Laszlo Kovacs just before he shot Easy Rider and stars Clu's oldest son John. (John Gulager is most famous for winning the Project Greenlight competition and directing the Feast trilogy of horror flicks.) Then, John and Norma Novak (1977) is a violent rock opera that stars Clu's younger son Tom.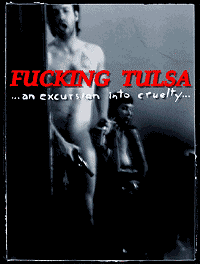 However, Fucking Tulsa, which is billed as the "cruelest film ever made," is a true family affair. Written and directed by Clu, it stars both John and Tom, Clu's wife Miriam, and John's wife Diane. The film, which is an exercise in grand guignol excess, was produced over the course of several decades and relocations; the making of which is an extreme odyssey in and of itself. Read all about the tortured details of the Gulager family history here.
Reflections of Evil, dir. Damon Packard (2002, 115 min)
A Day With the Boys, dir. Clu Gulager (1969, 18 min)
John and Norma Novak, dir. Clu Gulager (1977, 30 min)
Fucking Tulsa, dir. Clu Gulager (1992, 20 min)