American Arab: Official Trailer And Poster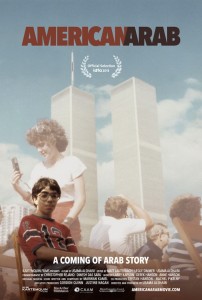 Usama Alshaibi's highly anticipated documentary American Arab will be making its World Premiere on Friday, November 22 at the International Documentary Film Festival Amsterdam. In conjunction with the debut, Kartemquin Films has released the movie's official poster and trailer. The trailer is below and click the poster on the left to embiggen.
Part autobiography, part cultural study, American Arab investigates the issue of Arab identity in the U.S. since 9/11. In a way, the film is a follow-up to Alshaibi's earlier hit documentary, Nice Bombs, in which the filmmaker visited his estranged family in Iraq following the ousting of Saddam Hussein.
Alshaibi's previous film, Profane, a fictional narrative about a Muslim sex worker grappling with issues of her religious identity, was named the 2011 Movie of the Year by the Underground Film Journal.
Judging by the trailer below, American Arab — like the majority of Alshaibi's work — looks as though it will prove to be a provocative and insightful experience.