Altamont Now! Blows Up The Big Apple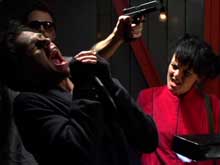 Citizens of New York City: Prepare for the Rockopalypse! Joshua von Brown's Altamont Now is descending on your fair metropolis to make your eyes melt, your ears bleed and your brain catch on fire. The terror will be unleashed at the Anthology Film Archives this Wednesday Oct. 29 at 6:00 p.m. as part of the incredible New Filmmakers program.
The film tells the tender story of Richard Havoc (Daniel Louis Rivas), a post-punk nuisance born at the infamous Rolling Stones concert at Altamont, CA who, along with his group of pop culture outsiders, wants to rid the world of the legacy of the wusses of Woodstock. Their plan for a new world youthquake would be laughable if they didn't have their very own nuclear device to make it happen. Can a bold documentary filmmaker (Raphael Nash Thompson), who penetrates the missile silo they call ground zero, talk some sense into the rowdy hooligans or will their quest for fame kill the rest of the world?
Altamont Now, which I've been raving about for months now, works as both an outrageous comedy and a sad commentary on our pop culture obsessed society. Plus, the totally rockin' soundtrack features original songs by Austin noise rockers Enduro, as well as tunes by the Ex-Models, the Crack Pipes, Finally Punk and more. Finally, and best of all, Daniel Louis Rivas gives a totally electrifying performance in what is sure to be a star-making role. You can't take your eyes off this kid when he's on the screen.
Even more exciting, Rivas will be at the screening, along with director von Brown and co-star Thompson. Altamont Now is, hands-down, the most fun movie I've seen all year — underground, mainstream, indie, whatever. This is a great opportunity to see the film on the big screen and to catch the stars and director in person. Me, I've just seen the film at home on DVD and I'm this crazy about it.
It's also no wonder why the film has been tearing up the underground film circuit this year. It's won awards at both the Atlanta Underground and the Arizona Underground film festivals and has played at the Boston, Minneapolis and Denver undergrounds; and I programmed it myself for the Avant MUFF section of the Melbourne Underground Film Festival.
So, get out there for some fun pre-Halloween hijinx in the Big Apple. You won't regret it. But, if you need more convincing, check out the film's official site and watch the trailer below.
Oct. 29
6:00 p.m.
Altamont Now, dir. Joshua von Brown
Anthology Film Archives
at 2nd and 2nd.