All Day Long Is Free In Brooklyn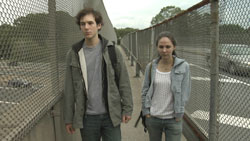 Live in Brooklyn? Wanna see an awesome short film for free? Are you free Mon. Oct. 1 at 7 p.m.?
Andrew Semans's All Day Long is one of the best films we've seen here at the Underground Film Journal this year, a minimalist exploration of awkward teen "romance." Beautifully lensed and lugubriously paced, it's one of the most honest portrayals of teenage relationships we've ever seen. Don't believe us? Here's what we said in our review:
As the film rumbles towards its inevitable ending and we can only watch, not in horror, but in sadness, it's quietness allows us to reflect upon our own experiences in this arena. All Day Long begs us to walk along with these two characters, to even walk once again in their shoes because we've all worn them at some point or another.
So, I can't recommend the film enough. It's playing on the 1st as part of the Brooklyn Independent Cinema Series, which is held on the first and third Monday of every month at the Barbes bar and performance space in Park Slope. It's part of an evening of five other shorts. They are: The Saddest Boy in the World, dir. Jamie Travis; Divorce Lemonade, dir. Justin Hayward; Dad, dir. Daniel Mulloy; The Rub, dir. Norman Reedus; Death to the Tinman, dir. Ray Tintori. Out of the other films, we've also seen Dad online somewhere (at the Sundance site, I think) and recommend that, too.
You should go. Click for more info.