AFI Silver Theatre: Every Other Day Is Halloween
June 27
8:20 p.m.
AFI Silver Theatre and Cultural Center
Silver Spring, MD
Hosted by: Midsummer Night's Scream II
Every Other Day Is Halloween is director C.W. Prather's documentary about Count Gore De Vol, the beloved Washington, D.C. TV horror movie host. Portrayed by Dick Dyszel, De Vol was a major cult celebrity in the nation's capital during the '70s who fell victim to '80s media consolidation.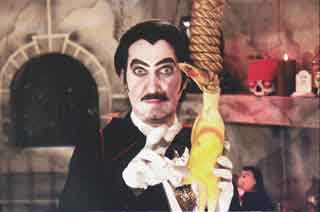 After being tossed off the air, De Vol turned to the Internet where he has led a renaissance of horror movie hosting. Also, the "Other" of the title refers to other characters Dyszel portrayed on TV, including Bozo the Clown and the sci-fi themed kids show host Captain 20.
You can read the Underground Film Journal's review of Every Other Day Is Halloween here. It's a fantastic and inspiring documentary.
The screening will feature director Prather and Count Gore De Vol in person. The post-screening Q&A will be moderated by D.C.'s own documentary filmmaking legend Jeff Krulik.
C.W. Prather is also the founder and director of Washington D.C.'s Spooky Movie International Film Festival.
Watch the Every Other Day Is Halloween documentary trailer: