AFAIK, This Is The Only Photo Of Filmmaker Ron Rice On The Web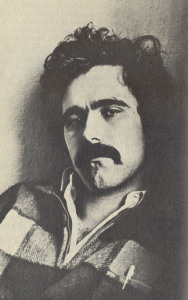 Yeah, as far as I know, this is the only photograph of '60s underground filmmaker Ron Rice on the web, which I scanned from Sheldon Renan's book An Introduction to the American Underground Film. I don't know why there aren't any photos of Rice, but I thought I'd post this up in case anybody's interested. Feel free to disseminate so that the title of this article becomes obsolete. Click the image for a larger version.
Rice, though, did die at a very young age. He was only 32 in 1964 when he passed away from complications from pneumonia in Mexico. Sadly, he only made four films, but they made an incredible impact on the underground scene. Only his last film, Chumlum (1964), has officially been released on DVD, which you can find on the Treasures IV: American Avant Garde Film 1947-1986 box set. It's an extremely colorful, vibrant film, shot while the actors for Jack Smith's Normal Love were just lounging around and relaxing between takes.