Adrienne Shelly, R.I.P.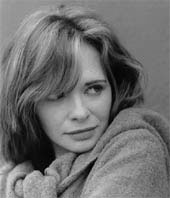 This doesn't really fall under underground film news, but like most indie film nerds who came of age in the late '80s-early '90s, Hal Hartley's The Unbelievable Truth had a huge impact on me, particularly due to the intense debut of Adrienne Shelly. While Shelly never did go on to become an indie film "It girl" like Parker Posey or Lili Taylor, she did have that same level of on-screen sexiness and charisma and had a pretty productive acting career. She also had made the move into feature film directing in recent years, the latest of which, Waitress, will probably be released next year.
I first read of her passing Friday at GreenCine Daily, so they get the first link. As of this writing, though, there are still conflicting reports about her death. Police believe she committed suicide, but her husband, Andrew Ostoy, and other family members claim that Shelly did not seem depressed recently and had no motivation to kill herself. Ostoy found his wife hanging in the bathtub. It may take days or weeks to find out from the medical examiner according to the New York Post.
However she died, this is tragic news. She was only 40 years old and is survived by her husband and their 3-year-old daughter.