On Tour: Jenny & Alan Abel With Abel Raises Cain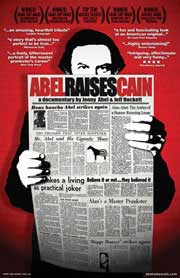 Both filmmaker Jenny Abel and the subject of her uproarious documentary, her father Alan Abel, will be criss-crossing the south all through February with their film Abel Raises Cain. Their journey is being sponsored by the Southern Circuit Tour of Independent Filmmakers. Tour dates are below.
Alan Abel is currently the reigning champion of media hoaxsers, having pulled numerous fast ones on the unsuspecting public since the early '60s. Abel's prankster behavior began when a national magazine inadvertently fell for a spoof article he had written calling for the world's naked animals to start wearing pants. Soon, Abel had formed a fake advocacy group and hired a young Buck Henry to pretend to be its leader.
With that, Abel's "career" was off, pulling off one hoax after another, from running phony presidential candidates to pretending to run a school for beggars to campaigning against breast feeding. Abel has conned tons of gullible news reporters and other media figures for close to fifty years. Plus, he even directed two mockumentaries in the '70s, Is There Sex After Death? and The Faking of the President.
Jenny Abel's filmed portrait of her father is a loving tribute to his outlandish life and sheds some light on what it was like to grow up in such a chaotic environment.
At each of the tour stops, both Jenny and Alan will be in attendance for a post-screening discussion. Just be prepared that if you ask Alan any questions, that he won't necessarily give you a straight answer. But, that's part of the fun of going to see the film and hear the filmmaker and star speak afterward.
There will be nine stops on the tour in total, in places such as Greenville, North Carolina; Augusta, Georgia; New Orleans, Louisiana; Tupelo, Mississippi; and more.
The Southern Circuit Tour of Independent Filmmakers is an excellent program that sends out several filmmakers on screening tours of the south throughout the year. Not all films are southern in nature — the Abels are from the New York area — and feature independent movies of all genres and styles.
The tour schedule for Abel Raises Cain is below. But, please visit either the Southern Circuit official site for more info, verify showtimes and look for other films that may be screening. You can also always visit the screening venue websites — linked in the schedule below — for more info.
Feb. 8
8:00 p.m.
East Carolina University
Speight Auditorium in the Jenkins Fine Arts Center
Greenville, NC, 27858
Feb. 9
6:00 p.m.
Morris Museum of Art
1 Tenth St.
Augusta, GA, 30901
Feb. 10
5:30 p.m.
I. P. Stanback Museum & Planetarium
South Carolina State University
300 College St. NE
Orangeburg, SC, 29117
Feb. 11
7:00 p.m.
New Orleans Afrikan Film and Arts Festival
913 Washington Ave., Unit Two
New Orleans, LA, 70130
Feb. 12
8:30 p.m.
Acadiana Center for the Arts
101 W. Vermillion St.
Lafayette, LA, 70501
Feb. 15
6:00 p.m.
Jule Collins Smith Museum of Fine Art
Auburn University
901 S.College St.
Auburn, AL, 36849
Feb. 17
6:30 p.m.
Tupelo Film Commission
The Link Centre
399 E. Main St.
Tupelo, MS, 38802
Feb. 21
7:00 p.m.
O'Keefe Cultural Center/Anderson Museum of Art
O'Keefe Cultural Center: Mary C. Theater
1600 Government St.
Ocean Springs, MS, 39564
Feb. 22
7:00 p.m.
Alys Robinson Stephens Performing Arts Center
Reynolds-Kirschbaum Hall
1200 10th Avenue South
Birmingham, AL 35294