7 Underground Comedies On Amazon VOD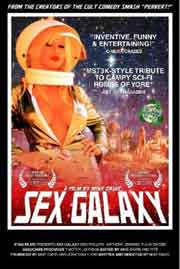 Looking for a cheap laugh?
As the Video on Demand wars heats up, Amazon has started really ramping up their own online offerings. Yes, they still sell DVDs, but now they sell tons of movies that you can watch either on your computer monitor or download to a mobile device.
While, of course, Amazon is banking its VOD business on getting top Hollywood content, lots of smaller distributors are allowing their releases to be available on VOD in addition to selling DVDs on the site as well. Plus, Amazon's longtime CreateSpace DVD on Demand business is also allowing for VOD, directly giving filmmakers some VOD power after they've been locked out of iTunes, Netflix and/or Hulu.
Renting feature length movies on Amazon usually runs about $1.99 to $2.99, so if you're looking for a quick cheap laugh, these quirky, oddball little movies might satisfy your needs.

Gamers, dir. Christopher Folino. You don't have to be into role-playing games like Dungeons & Dragons to get a kick out of Gamers. In fact, if you are a gamer, you're either going to appreciate the poking fun of your hobby or you're just going to end up totally offended. Director Folino combines low-brow humor with gentle mockery with a pinch of actual sentimentality to this semi-mockumentary about a group of gaming friends who are going for a world record for longest game ever.
The Proper Care & Feeding of an American Messiah, dir. Chris Hansen. Unlike your ordinary crazies, Brian B. doesn't think he's the messiah. He just thinks he's just your local, regional messiah. He just has one problem: He's not sure what his "special power" is, other than having the complete inability to digest food properly. Brian puts his long-suffering sister and intellectually-challenged brother through psychological hell while searching for that something special that will make himself extra special.
Confusions of an Unmarried Couple, dir. Brett M. Butler & Jason G. Butler. Just because Dan and Lisa aren't legally wed, that doesn't mean they can't put each other through relationship torture like married couples do. Even though Dan caught Lisa cheating on him with another woman, he's ready to work through their troubles if she's willing to grovel appropriately. Well, things don't work that easily as the bickering couple know which buttons to push in each other as they spend an agonizing day debating just who did what to whom first.
Hey Happy!, dir. Noam Gonick. It's the end of the world as we know it and the queer residents of Winnipeg are feeling rather randy. As an impending flood threatens to wash away the filth of the world, the alien-obsessed, mentally-challenged Happy is caught in the middle of two competing suitors, both of whom want Happy to be their latest conquest. At an outdoor, all-night rave party, love might not conquer all, but lust definitely clouds the air.
Sex Galaxy, dir. Mike Davis. This is what you might call a "recycled" film. Meaning that director Davis took a '50s Russian sci-fi film and other archival space-themed footage, chopped that all together and overlaid a new, raunchy soundtrack to create this side-splitting masterpiece. Hey, the actual film might be old, but the jokes are fresh and tasty when a bunch of love-starved astronauts take off for a planet inhabited only by sexy women and their angry robotic pimp.
Being Michael Madsen, dir. Michael Mongillo. Hollywood character actor Michael Madsen may come across as a total badass on-screen, but what's he really like off camera? Well, you won't find that out in this celebrity mockumentary. (The one doing the most mocking is Madsen's sister Virginia in a series of insult-laden sit-down interviews.) The real scandal occurs when a trio of paparazzi accuse the actor of killing a young starlet. Tired of being stalked by the career-ruining troublemakers, Madsen turns the tables on the photogs for a game of Tinseltown cat-and-mouse.

Altamont Now, dir. Joshua von Brown. And then there's the ubiquitous Altamont Now. Ubiquitous on the Underground Film Journal, anyway. Although, if you still haven't experienced the raw power of this teen pseudo-punk apocalypse, then there's really no reason not to anymore. Von Brown's epic tale of a music video star who wants to rule the world by blowing up everyone over 30 is absolutely required viewing.