2015 Winnipeg Underground Film Festival: Official Lineup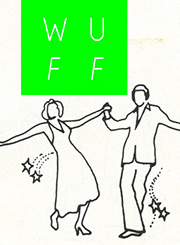 The 3rd annual Winnipeg Underground Film Festival is a three-day showcase on of experimental short films from all over the globe, plus a screening of a locally produced feature film. The fest runs on June 5-7 at the Frame Arts Warehouse.
The sole feature film of the fest is FM Youth by Stéphane Oystryk, which captures the lives of three young Franco-Manitoban friends as two of them about to embark on a journey outside of their tight knit French community. FM Youth will screen at 11:30 p.m. on the opening night of June 5.
The rest of the fest is crammed full of short films, including two by the amazing analog experimentalist Christine Lucy Latimer; plus work by local filmmaking star Guy Maddin, prolific Winnipeg expat Clint Enns, Underground Film Journal fave Neil Ira Needleman, killer animator Leslie Supnet, Josh Weissbach's Model Fifty-One Fifty-Six, which garnered an Honorable Mention at this year's Onion City Experimental Film and Video Festival; and films by Dan Browne, Paul Clipson, Sabine Gruffat and lots more.
The full Winnipeg Underground Film Festival lineup is below, but for more info on the films, please visit the fest's official website.
June 5
7:00 p.m.: "The 90 SECOND"
A gaggle of short films all a minute and a half long or less.
8:30 p.m.: "8 x 10"
76 Jansky Units, dir. Damien Ferland
Still Feeling Blue About Colour Separation, dir. Christine Lucy Latimer
P.O.P., dir. Eduardo Menz + David J. Romero
Manhattan One Two Three Four, dir. Tomonari Nishikawa
Flow, dir. James Pomeroy
Hungry Bones, dir. Berny Hi + Chrystene Ells
Waxing and Milking, dir. Alee Peoples
Sheriffs, dir. Fabian Velasco
Summer Song, dir. Clint Enns
Endless, Nameless, dir. Mont Tesprateep
10:00 p.m.: "THE CITY ECHOES"
Array, dir. Benjamin Balcom
All That Is Solid, dir. Eva Kolcze
Nothing, dir. LJ Frezza
Silages #2, dir. Aurélie Percevault + Antoine Ledroit
CINZA (ASHES), dir. Michael Espinha
Red Capriccio, dir. Blake Williams [in 3D]
11:30 p.m.: FM Youth, dir. Stéphane Oystryk. Three young Franco-Manitoban friends living in Winnipeg enjoy one last wild adventure before two of them leave for Montreal, Quebec.
Screening With:
FM Youth, dir. Stéphane Oystryk. A 2009 short film precursor to the feature.
June 6
2:00 p.m.: "WORK + LEISURE"
Odysée de fer (au haut Canada), dir. Stéphane Oystryk
With Grace, dir. Spencer Neale
Alice e Darlene, dir. Raul Domingues
Afternoon In, dir. Simon Liu
Fausto and Emilio, dir. Nora Sweeney
To Taste the Ground, dir. Shannon Lynn Harris
3:30 p.m.: "MORE TIME w/ FAMILY"
Portrait of Cecilia, dir. Maura Wendelken
Poem, dir. Dan Browne
Following Penny, dir. Tom Kowalsky
In Like a Lion, dir. Maura Jasper
7:00 p.m.: "BODY ISSUES"
The Fortune Teller, dir. Annie MacDonell
Ham Over Rice, dir. Ying Liu
Chorus, dir. Benjamin Edelberg
Construction, dir. Alison James
Pavilion, dir. Adam Sekuler + Shannon Stewart
That Dizzying Crest, dir. Jeremy Moss
Item Number, dir. Oliver Husain
8:30 p.m.: "PERSONALS + OBITUARIES"
Planned Obsolescence: The Tape, dir. Lamathilde
Sal Mineo's Locker, dir. Chance Taylor

The Brian Sinclair Story, dir. Guy Maddin
Pearl Pistols, dir. Kelly Gallagher
Wake, dir. Eric Stewart
Violet Hour, dir. Camille Sumers-Valli
Lie Back and Enjoy It: A Film about JoAnn Elam, dir. Jessica Bardsley
Turin, dir. Rhayne Vermette
Outer Darkness, dir. Hannah Piper Burns
10:00 p.m.: "CELESTIAL BODIES"
First Sun, dir. Leslie Supnet
Celestial Object, dir. Benjamin Balcom
Lunar Almanac, dir. Malena Szlam

Pulsars e Quasars, dir. Paul Clipson
In the New Sky, dir. Eloy Dominguez Seren
Shooting Star, dir. Pierre Yves Clouin
Toward the Flame, dir. Paul Turano
Sun Song, dir. Joel Wanek
Second Sun, dir. Leslie Supnet
Étoiles, dir. Caroline Blais [as looped video]
11:30 p.m.: "PLANET X"
Domestikia, Chapter 3: La Petite Mort, dir. Jennifer Linton
RGBW, dir. Stephan Quinlan

Bird Songs of Doom, dir. Lansing Bruce Robertson
Pure Virtual Function, dir. Péter Lichter
Variations, dir. Piotr Żołądź
Compound Theory 2a, dir. Terry Billings
Exclusion Zone, dir. Alexander Isaenko
The Public Slaw, dir. Winston Hacking + Andrew Zukerman
June 7
5:00 p.m.: "A RETURN TO THE FUTURE"
Physics and Metaphysics in Modern Photography, dir. Christine Lucy Latimer
Orenda, dir. Emmalyne Laurin

Stick It, dir. Stefan Ramirez Perez
Filament Studies, dir. Libi Striegl
A Return to The Return to Reason, dir. Sabine Gruffat
Inkjet 3056A, dir. Karissa Hahn

Model Fifty-One Fifty-Six, dir. Josh Weissbach
Under the Atmosphere, dir. Mike Stoltz
6:30 p.m.: "THE MOTHER COUNTRIES"
By the Time We Got to Expo, dir. Eva Kolzce + Phillip Hoffman
1967: A People Kind of Place, dir. Jacqueline Hoang Nguyen

AmericaAntiAmerica, dir. Neil Ira Needleman
Big Man, Little Screen, dir. Nik Nerburn (+ Ramzan Kadyrov)
Little Portugal, dir. Pedro Ferreira
8:00 p.m.: "AGE OF ANIMALS"
Like a Moth, dir. Ben Clarkson
Metropolitan Triangle Garden, dir. Rui Hu
Dimensions of a Fish, dir. Shehrezad Maher
Húnaflói (Part 1), dir. Rachel Lin Weaver
The Age of Animals, dir. Gregg Biermann