2015 Call For Entries: Alchemy Film And Moving Image Festival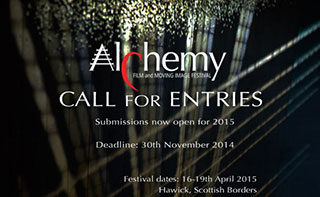 The 5th annual Alchemy Film and Moving Image Festival is currently open for entries. This is an experimental film fest that screens a wide variety of diverse works, but is also specifically looking for films that fit next year's theme of "Spiritus Mundi," which the fest describes as "denoting a spirit of inquiry into the deep nature of substance, of film, of luminosity and shadow, of meaning and life."
More info on the festival's theme and overall submission guidelines are below, as well as the deadline date. The fest will run on April 16-19 in Hawick, in the Scottish Borders region of Scotland.
You can submit at the fest's official website.
Deadline
Final Deadline
November 30, 2014
Fee: £5 (approx. $8 / €6)
Submission Guidelines
Alchemy Film and Moving Image Festival is an international festival of experimental film and artists' moving image. Submissions of artists' and experimental film from any part of the world are welcome — we celebrate a diverse range of works: the visually experimental, quietly poetic, formally radical, psycho-geographical, politically activist, culturally subversive, psycho-spiritual, the alchemically volatile, the underground and bizarre. Conventional or commercial-style narrative dramas, animations and documentaries are less likely likely to be successful — unless they are truly original in form and content.
We accept submissions of works related to any subject area, though this year we are especially interested in works that may relate to the "Spiritus Mundi," a historical term for the "World Soul" or "Spirit of the World." This is perhaps something we all unwittingly search for, denoting a spirit of inquiry into the deep nature of substance, of film, of luminosity and shadow, of meaning and life. It relates to a spirit of universality and internationalism — that which underlies both our common humanity and the structures of all natural phenomena. It means our cultural-political Zietgeist too, the 'spirit of the age,' and every bit as ghostly, mutable and ephemeral.