2014 WNDX Festival of Moving Image: Official Lineup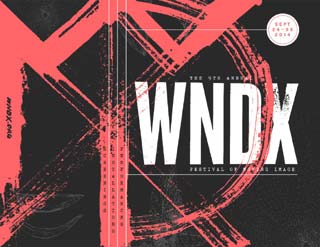 The 9th annual WNDX Festival of Moving Image will showcase new experimental media from all over the world — including short films, installations and live cinematic performances — at several locations across the city of Winnipeg on September 24-28.
Special events at WNDX this year include the fest's annual One Take Super 8 Event, where 30 filmmakers will screen their in-camera edited masterpieces for the first time along with the audience. Plus, there's a two-part celebration of the work of Denis Côté, featuring his two films Joy of Man's Desiring and Bestiaire, with the filmmaker in attendance.
There will also be a live film performance by filmamker Karl Lemieux with sound artists Roger Tellier-Craig and Alexandre St-Onge; and Freya Björg Olafson's dance/film hybrid HYPER_.
Short films to be on the lookout throughout the fest include Mike Olenick's Red Luck, which won the Best Looking Film award at the Chicago Underground Film Festival; two new films each by Winnipeg expats Clint Enns and Leslie Supnet; and new films by Thorsten Fleisch, Jennifer Reeves, Caroline Monnet, Heidi Phillips, Matthew Rankin and more.
The full WNDX film lineup below, but please visit the festival's official website for more info, especially on installations and other off-screen events.
September 24
7:00 p.m.: "Shorts Program 1: Astral Projections"
Black Rectangle, dir. Rhayne Vermette
No More Lonely Nights, dir. Fabio Scacchioli & Vincenzo Core
Re:cycled, dir. James Pomeroy
A Knight's Walk (and other speculative events), dir. Clint Enns
Kingdom Come: Rituals, dir. Vika Kirchenbauer & Martin Sulzer
Even Lower Astral Entity, dir. Gwen Trutnau
Snow Shoes, dir. Milos Mitrovic
Rob What, dir. Rhayne Vermette
September 25
7:00 p.m.: "The One Take Super 8 Event"
Featuring the work of 30 filmmakers who were each given a single roll of Super 8 film and invited to make a film sans editing or post production of any sort.
September 26
7:00 p.m.: Joy of Man's Desiring (Que Ta Joie Demeure), dir. Denis Côté. A poetic narrative about the modern human working condition.
9:00 p.m.: "Shorts Program 2: Strangely Familiar"
Axis, dir. John Kneller
Class Picture, dir. Tito & Tito
Bernard Gaspé, dir. Lindsay McIntyre
Resistfilm, dir. Pablo Marín
Something Strangely Familiar, dir. Aaron Munson
The Pieced Quilt, dir. Scott Fitzpatrick
Picture Particles, dir. Thorsten Fleisch
Far From, dir. Barbara Sternberg
11:00 p.m.: Unzip Violence, dir. Karl Lemieux. This film performance will feature multiple projections and a live score by sound artists Roger Tellier-Craig and Alexandre St-Onge.
September 27
1:00 p.m.: "20 Years in the Barn: The Winnipeg 20th Anniversary Film Farm Show"
The Mount Forest Men's Synchronized Swim Team Champs, dir. Unknown Artist
How to Build a Raft, dir. Home School Film Farm Group
Behind This Soft Eclipse, dir. Eve Heller
Walking With Phil, dir. Clint Enns
Minus, dir. Chris Chong Chan Fui
Crashing Skies, dir. Penny McCann
Last Light Breaking, dir. Leslie Supnet
Forsaken, dir. Heidi Phillips
Captifs D'Amour, dir. John Greyson
Holy Holes, dir. Lillah Halla
Demi Monde, dir. Caroline Monnet
Recollection 1, dir. Yuval Sagiv
Strawberries in the Summertime, dir. Jennifer Reeves
3:00 p.m.: "Shorts Program 3: All Luminous"
Red Luck, dir. Mike Olenick
Burn Out the Day, dir. Sasha Waters Freyer
Shamans, the Cunning, dir. Peter Dudar
e-ruqyah, dir. Arya Sukapura Putra
The Dust Settles, dir. Heidi Phillips
Stark Electric Jesus, dir. Hyash Tanmoy, Mrigankasekhar Ganguly
5:00 p.m.: Bestiaire, dir. Denis Côté. A look at the somewhat disturbing relationship between man and beast at the zoo.
7:00 p.m.: "Shorts Program 4: Gyros and Heroin"
Mynarski Death Plummet, dir. Matthew Rankin
11 Parking Lots and One Gradual Sunset, dir. Aaron Zeghers & Nigel Webber
Hot Dog Machine, dir. Sean Grounds
picnic, dir. Jason Cawood, Ian Campbell, Amber Christensen, and Colby Richardson
Polar Express, dir. Karen Asmundson & Gwen Trutnau
Target Girls, dir. Ariel Smith
Radish, dir. Diego Ramirez
Allan Gardens, dir. Leslie Supnet
Quälen / Torturing, dir. Rebecca Blöcher
The Wapiti, dir. Anssi Kasitonni
Polis X, dir. Erkka Nissinen
9:00 p.m.: "Unspeakable Architectures, McLuhan Extensions and Homemade Projector Performances"
Installation:
©ymbállein: The Marshall Mcluhan Arcade Game by Richard Altman, engineered and electronics by Shaggy Fabbro, William Franzin
Performances:
Xerographic by Andrew John Milne
Moonflower and Other Witchweeds by Doreen Girard
Films:
Architecture And The Unspeakable: Soho, ???, Detroit, dir. John Szot
Extensions — Reflections on Works of Marshall Mcluhan, dir. Mark Templeton + Kyle Armstrong
September 28
3:00 p.m.: "Shorts Program 5: Grey Eminence"
Slaughterhouse, dir. Philip Hoffman
Gente Perra, dir. Anja Dornieden & Juan David González Monroy
7 1/2 Steps, dir. Travis Jule
The Visitor, dir. Miriam Sainnawap
Burning and Effigy, dir. Jaimie Isaac
Sun Song, dir. Joel Wanek
6:00 p.m.: HYPER_, dir. Freya Björg Olafson. This performance features live dancers whose forms blend in with images projected on the stage and screen. Featuring lighting design by Hugh Conacher.