2014 Haverhill Experimental Film Festival: Official Lineup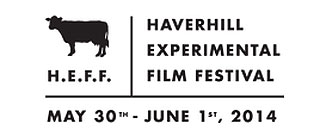 The 2nd annual Haverhill Experimental Film Festival features a powerhouse lineup of fantastic short films and one killer feature. It runs May 29–June 1 above the Tap Brewing Company in Haverhill, Massachusetts.
The fest opens on the 29th with a trio of special program events, including a live Super 8mm film performance by Richard Fedorchak, followed by Jodie Mack's autobiographical rock animated documentary Dusty Stacks of Mom and assorted Mack handmade films, then ending with live musical scoring of silent films curated by Bob Beal.
The next night, May 30, is not to be missed with two programs of short films that include two incredible standout, award-winning films. First is Kent Lambert's masculine video game and pop culture meditation RECKONING 3; second is Mike Olenick's gorgeously creepy supervillain serial killer drama Red Luck.
The one feature film of the festival screens on June 1 and is Last Stop, Flamingo, another entry in acclaimed documentary filmmaker Georg Koszulinski's fascinating history of the mythology of the state of Florida.
Another special event to look out for is on May 31 and is a double presentation of work by this year's festival jurors: Experimental documentarian Robert Todd and the insanely talented media remix duo Soda_Jerk.
The full film lineup is below. For more information, please visit the festival's official website.
May 29
6:00 p.m.: "Super 8 Films by Richard Fedorchak"
7:30 p.m.: "Let Your Light Shine by Jodie Mack"
9:00 p.m.: "Music Show and Live Scoring of Silent Films and Videos, curated by Bob Beal"
May 30
6:00 p.m.: "The Valley Between Fires"
Hour Between Dog and Wolf, dir. Abinadi Meza
this is (not) YATES, dir. Joshua Yates
Triangles, dir. Ben Popp
RECKONING 3, dir. Kent Lambert (Read the underground movie review)
Buffalo Death Mask, dir. Mike Hoolboom
Head Games, dir. Brooke Rosen
Sunrise Fires, dir. Lorenzo Gattorna
The Central Valley, dir. Gina Marie Napolitan & Beaux Mingus
Love in the City, dir. Emanuele Michetti
Burn Out the Day, dir. Sasha Waters Freyer
Hermeneutics, dir. Alexei Dmitriev
8:30 p.m.: "In the Red Machine"
In Light, In!, dir. Ken Paul Rosenthal
m.o.t.i.o.n.m.o.v.i-e, dir. Robert Edmonson
La Source, dir. Auden Lincoln-Vogel
PXXXL, dir. Lauren Cook
Red Luck, dir. Mike Olenick (Read the underground movie review)
Golden Eye, dir. LJ Frezza
Pen Up the Pigs, dir. Kelly Gallagher
Look Inside the Ghost Machine, dir. Péter Lichter
May 31
3:00 p.m.: "Juror Presentation: Robert Todd and Soda_Jerk"
6:00 p.m.: "Ghostly Black"
Black Rectangle, dir. Rhayne Vermette
With Pluses and Minuses, dir. Mike Stoltz
[deterritorialization], dir. Ben Balcom
Nodal Point, dir. Jules Bowie
Ghostly, dir. Maxime Corbeil-Perron
Spirits in Season, dir. Stephen Broomer
MEMORY III Of A City, dir. Gloria Chung
Dammtor, dir. Diego Garro
Badlands, dir. Eva Kolcze
Waveland, dir. Cade Bursell
8:30 p.m.: "Cellular Battleground"
Mount Song, dir. Shambhavi Kaul
In Search of Lost Time, dir. Jason Younkman
theoria, dir. Josh Weissbach
Pillager, dir. Josh Lewis
LIVING FOSSIL, dir. Sean Hanley
Cellular Activity: Postcard from New Zealand, dir. Neil Ira Needleman
Eudora, dir. Michael Bucuzzo
Human Body Battleground Organ Organism, dir. Metrah Pashaee
CINAMNESIA, dir. Nicola Walkerden
If These Were Silent, dir. Paul Hinson
Inhabit, dir. Timothy David Orme
June 1
12:00 p.m.: Last Stop, Flamingo, dir. Georg Koszulinski
2:00 p.m.: "She Stood on Flying Hearts"
where she stood in the first place., dir. Lindsay McIntyre
F-Line, dir. Silvia Turchin
Early 12 New York Song, dir. Amanda Katz & Georg Anthony Svatek
H2T, dir. Charles-André Coderre
Light Plate, dir. Josh Gibson
Flying Fish, dir. Tara Nelson
The Deep Heart's Core, dir. Philip Brubaker
Historia Calamitatum (The Story of My Misfortunes), Part II: The Crying Game, dir. Roger Beebe
First Light on South Street, dir. Paul Turano
4:30 p.m.: "Quiet Fury"
Gente Perra, dir. Anja Dornieden & Juan David González Monroy
Renai no Daikyouen (Banquet of Love), dir. Haruka Mitani & Michael Lyons
Somewhere In Between, dir. Kellie Bronikowski
REVLON / CLINIQUE / OPI REDUX, dir. Kate Ewald
DER SPAZIERGANG, dir. Margaret Rorison
45 7 Broadway, dir. Tomonari Nishikawa
The Quiet City, dir. Brian James McGuire
Niagara's Fury, dir. Benjamin R. Taylor