2014 Haverhill Experimental Film Festival: Award Winners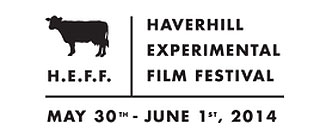 The 2nd annual Haverhill Experimental Film Festival — which was just held in Haverhill, Massachusetts on May 29-June 1 — has announced their list of 9 award winners. Most impressively for a small festival in just its second year is that each winner, including the Honorable Mentions, was awarded a cash prize.
The big winner of the fest was filmmaker Metrah Pashaee, whose Human Body Battleground Organ Organism took home the First Prize award of $300. The Second Prize winner of $200 was Mike Olenick for his Red Luck. This is the second big award for Red Luck this year, which previously took home the Best Looking Award at the 2014 Chicago Underground Film Festival. The Third Prize winner of $100 was Josh Lewis for his Pillager.
Jurors for this years festival were media remix artists Soda_Jerk and experimental documentarian Robert Todd, both of whom awarded two Honorable Mentions each. One of those winners — appropriately awarded by Soda_Jerk — was Kent Lambert's video game remix piece RECKONING 3, which also won an award at the 2014 CUFF.
Also, the fest's two co-directors, twin brothers Brendan and Jeremy Smyth, gave out two Director's Choice awards.
The full list of winners is below. Click here for the full Haverhill Experimental Film Festival lineup.
First Prize ($300)
Human Body Battleground Organ Organism, dir. Metrah Pashaee
Second Prize ($200)
Red Luck, dir. Mike Olenick (Read the underground movie review)
Third Prize ($100)
Pillager, dir. Josh Lewis
Honorable Mention $50 (by Soda_Jerk)
RECKONING 3, dir. Kent Lambert (Read the underground movie review)
Honorable Mention $50 (by Soda_Jerk)
Gente Perra, dir. Anja Dornieden & Juan David Gonzalez Monroy
Honorable Mention $50 (by Robert Todd)
F-Line, dir. Silvia Turchin
Honorable Mention $50 (by Robert Todd)
theoria, dir. Josh Weissbach
Director's Choice $50 (by Brendan Smyth)
In Light, In!, dir. Ken Paul Rosenthal
Director's Choice $50 (by Jeremy Smyth)
where she stood in the first place., dir. Lindsay McIntyre